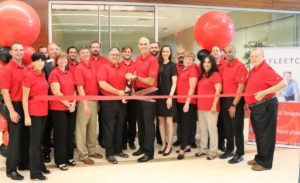 FLEETCOR Technologies (NYSE:FLT) is a leading global provider of commercial payment solutions. FLEETCOR helps businesses of all sizes better control, simplify and secure payment of their fuel, toll, lodging and general payables.
FLEETCOR gives businesses around the world a better way to pay and manage expenses.Its specialized payment solutions provide customers with unique expense controls and tailored benefits they can't find in traditional payment methods. With a comprehensive and large distribution network of leading partners in fuel, lodging, toll services and other specialty payment programs, FLEETCOR customers have access to payment solutions that our competitors are not able to provide. Ultimately the key differentiators can be seen and experienced through its people, products and service
Serving businesses in North America, Latin America, Europe, and Australasia, FLEETCOR is new to the Phoeinx Valley. Drawn in by the diversity, culture and strategic location of the greater Phoenix area, FLEETCOR has ambitions to continue to expand sales and operations as the opportunity arises.
For more information, visit http://www.fleetcor.com/.