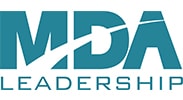 MDA Leadership helps you to strengthen your leadership capabilities. Organizations turn to MDA Leadership when they need expertise in assessing and developing their leaders, so they can create a high-performance culture that leads to business growth.
MDA Leadership can partner with you to:
Align your business and talent strategy
Identify the right leaders to achieve your goals
Develop leaders at all levels
While other organizations may focus in one area or the other, MDA Leadership truly specializes in both assessment and development at all levels of the talent pipeline. Ultimately, the power and payoff of this work comes from the integration.
Clients often say that they love to work with MDA Leadership because they offer the best of both worlds: The broad capabilities and deep expertise of a larger firm, combined with the personalized service and attention of a smaller firm.
Contact MDA Leadership to create your Talent Strategy for the Long Run!