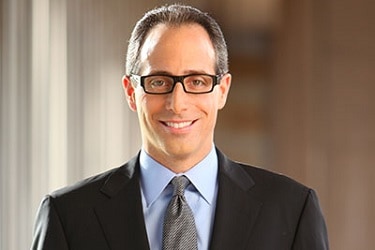 In his famous play, Lady Windermere's Fan, Oscar Wilde defined a cynic as "a man who knows the price of everything and the value of nothing."
I was reminded of that 1892 quip last week when published reports of the departure of Brian Swartz (right) as CFO of Apollo Group seemed to focus more on the salary his temporary replacement would earn than on the value Brian has brought – and will continue to bring – to our business community, our Chamber and our Valley.
Professionally, Brian was instrumental not only in changing Apollo Group's culture to make it more student-centric, but also in getting the organization's financial house in order and helping it navigate challenging economic times. He's also been recognized as one of the country's outstanding young financial executives. Personally, Brian is a loving husband and a great Dad to two exceptional kids.
Through his work as a member of the Phoenix Chamber's Board of Directors, Chairman of the Board of Directors for the Phoenix Children's Hospital Foundation, service on the board and as treasurer of the Valley Youth Theater, and through the roots he has put down in our community, Brian has proven to be a dedicated and highly valued part of the fabric of the Valley.
We have a great many highly compensated executives in our business community, and that's a good thing. It's a sign of strength and of robust companies that generate revenues enabling them to attract and retain high-quality talent.
But there's much more to all of us than the figure on our pay stubs. Those who dedicate their professional lives to helping grow our economy and creating jobs while contributing through their personal lives to making this a great place to live deserve better. Their value far exceeds their price. I want to thank Brian for his service to the Greater Phoenix Chamber of Commerce and more importantly for making a difference in our community.
Now that's something to write about.