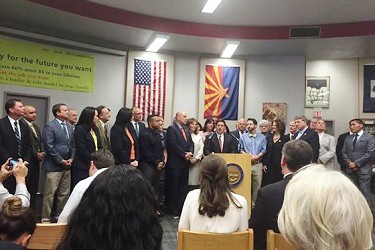 Earlier this month, I stood with many Arizona business and education leaders as Governor Doug Ducey announced his plan to put more than $2 billion into our K-12 education system. Voters will be asked to approve boosting our lowest-in-the-nation per-pupil funding through accelerating payments from the state land trust's permanent fund over the next ten years.
I believe Governor Ducey should be applauded for his tremendous leadership and vision in putting this plan together. It shows a strong commitment to primary education, which the business community knows is a critical building block of our economy.
Through our Phoenix Forward economic development initiative, we are reaching out to companies of all sizes throughout the Valley and the state. They constantly tell us a qualified workforce is imperative if they are going to be successful going forward. This plan will be the shot in the arm that our K-12 system needs to help develop qualified workers in the future, and it's backed by real dollars that will make a real difference in our classrooms.
What we must recognize is that education is not a cost center – it's an investment. Future generations of Arizona workers, taxpayers and leaders will come out of our K-12 system, and increased funding  is part of the equation. Exactly how we get there is an ongoing conversation, but this plan can help us take action.
As with anything regarding education and the use of public funds, there will be much debate and many proposals to tweak the governor's plan between now and when it goes to the voters, possibly in November of 2016. But seeing and seizing the opportunity presented by the permanent fund to solve a pressing need is the kind of forward thinking we need from our state's leadership.