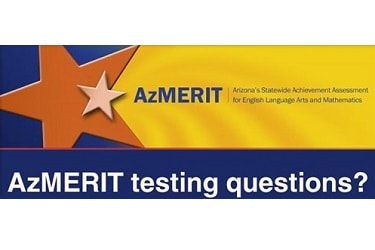 As we await the results of our children's math and reading scores on the state's first-ever AzMERIT test, we should prepare for the possibility that the results might look a bit different than what we expect. A lower score doesn't necessarily mean that a student is failing or that teachers aren't doing their job. It just means that it is a new measure of testing that will take some time to get used to.
Like many of you, I have a son in elementary school and always want him to do well and be confident. When he's unsure about facing something new, I reassure him. I also would like to reassure those that have reservations about the new assessment.
The 2015 Arizona Teacher of the Year John David Bowman of Westwood High School said it best when discussing how we should view the AzMERIT assessment. "Test scores might look different, but that's because we're asking students to do different things. We're raising the bar."
AzMERIT is a more challenging assessment than the previous AIMS exam and the standards it's measuring are also more challenging. State Board of Education President Greg Miller expects scores to drop 10 to 15 percent just because it's a new test.
However, the most important thing to remember is that this first assessment provides a more accurate picture on the progress of students. No schools will receive failing grades because of it and no students will be held back based on the results.
These scores should be seen as a baseline of where our students are when measured against an education system designed to prepare them for the high-tech, well-paying job market we are creating here in Arizona.
Arizona's College and Career Ready Standards and AzMERIT are key building blocks for the education system we all want and need. A strong education system is vital for a strong economy.
During our numerous business site visits in developing and implementing the Chamber's strategic economic development initiative, Phoenix Forward, business owners frequently expressed that they just don't have a large enough pool of skilled employees from which to draw. The way to address this issue is to more effectively educate our kids, and that starts in elementary school.
Policy makers and educators are taking bold, well-informed strides toward improving our education system. This isn't just a good idea – it's the only way to go. Better education means better jobs. Better jobs mean a better economy overall. And that benefits everyone. кредит