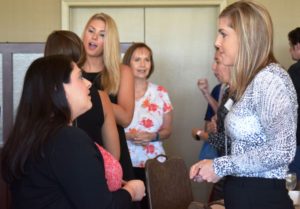 Sweaty palms, business cards poised for distribution, awkward lingering and hors d'oeuvres. It must be a networking event.
Although sometimes painful, networking is a necessary part of career building and professional development and it isn't just about handing out business cards all willy-nilly, it's about building relationships and genuinely connecting, maybe even making friends, with other professionals.
You may stumble your way through your first, second, and heck, maybe even your third networking event, but the Chamber won't let you flounder completely. We reached out to a few of our suave young professionals for their guidance on all things networking.
Meeting other professionals in person does so much for one's self-confidence and truly helps to establish a presence in the community. In addition, it allows you to get to know other people who are doing great things. This opens doors to new career opportunities, mentors, and it will help build a core group of individuals who you are able to seek advice from and vice versa provide advice to. –Jessica Hipskind, student care group manager, University of Phoenix
You can share a lot of the same experiences or professional achievements. Networking with other professionals also allows you the opportunity to see the wide array of professions that are out there and possibly make a connection with your business or just keep that connection in case you are looking to make a career move. –Erika Castro, community outreach representative, Salt River Project
It's a great way to expand your network and to grow in your profession, but it's also really instrumental in learning more about the community and the impact being made at the local level. Meeting other professionals can also be an opportunity to seek advice and mentorship from others who have been there before, I have benefited from this on numerous occasions and it usually gives me a fresh perspective on things. You never know who you're going to meet or how it may be mutually beneficial in the present or future! –Joel Eberhart, director of marketing, Ideas Collide
Three simple tips for networking success:
1) Don't forget your name or who you are. The reason why you are networking is to establish relationships, forgetting your name and your ambitions do not accomplish that objective.
2) Breathe, relax and find peace in a new environment.
3) Go into any networking event with a purpose and allow your true self to shine. People want to know who you are and the passion that you have.