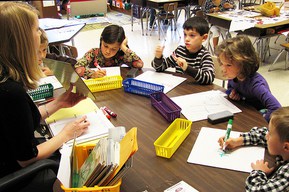 With the special May 17 election quickly approaching, we urge Arizona voters to vote yes on Proposition 123, which provides a sorely needed K-12 funding resolution for students and schools moving forward.
The proposition, which is the result of a compromise between education groups and state leaders, settles a long-running lawsuit against the state. Settling this lawsuit allows the education community to focus on what's most important — delivering a robust education to Arizona's students.
Prop. 123 is extremely well-received not only by the education community, but also the business community. Economic development and prosperity is of great importance to the business community and benefits the entire state. However, these endeavors cannot exist without a strong and adequately funded education system.
The Greater Phoenix Chamber of Commerce asks voters to help set Arizona on a stronger path to educational and economic prosperity by voting YES on Proposition 123. This funding for K-12 will have a positive impact on our teachers and schools and increases classroom spending for students.
Make sure your vote counts on May 17! Voting YES on Proposition 123 strengthens our education system and sends a message across the state, and the country, that we are continuing to build a viable workforce. Let's work together to support education funding and create change. Investing in education is investing in Arizona's future.
hairy girls займ на карту онлайн без отказасмс финанс займзайм на киви кошелек срочно