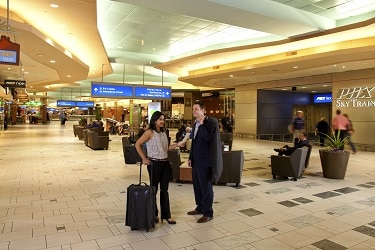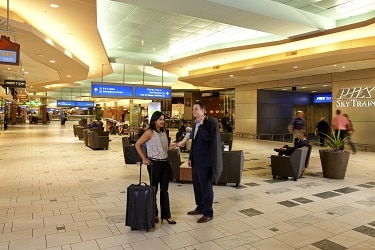 Your gateway to great shopping is being enhanced at Phoenix Sky Harbor International Airport with the introduction of several new retail options in Terminal 4, the airport's busiest terminal.
The Phoenix City Council recently approved the first phase of new retail contracts in Terminal 4, which will bring 21 new retail specialty, news and gift shops. Included in these enhancements are two spa locations, several technology stores and an assortment of local, regional and national products customers want.
The 21 new shops listed below will open in phases through the end of this year.
• 12 News – Offers periodicals, books, last-minute traveler needs, snacks, bottled water, soft drinks and souvenirs.
• Arizona Highways – Official store affiliated with Arizona Highways magazine, offering state-themed gifts and souvenirs, publications, periodicals and more.
• Brooks Brothers – Features quality career and casual clothing for the traveler, including shirts, dresses, shoes, handbags, ties and more.
• Bunky Boutique – Local boutique offering a variety of sophisticated and stylish clothing, accessories and home goods from local artisans to well-known brands.
• Cactus Candy (two locations) – Offers distinctively Arizona products including prickly-pear cactus candy and other delights that make great souvenirs and gifts.
• Connections – Provides travelers with periodicals, snacks, last-minute travel needs and souvenirs.
• Fire CZ – Offers affordable elegance with jewelry such as bracelets, rings, earrings and more with high-quality gemstones rivaling diamonds.
• Hudson – Features periodicals, snacks, souvenirs, last-minute travel essentials and more.
• Johnson & Murphy – Offers a first-class selection of men and women's shoes, as well as apparel, accessories and gifts.
• Roosevelt Row – Showcases a variety of unique products from local Phoenix artists.
• Sunglass Hut – Features the latest trends and well-known brands of eyewear.
• TODAY – Offers an assortment of periodicals, electronic accessories, TODAY show-themed merchandise and refreshments and snacks for on-the-go.
• Uno de 50 – Offers handcrafted jewelry with a unique style. Find creative and bold pieces from necklaces to earrings and much more.
Specialty concepts:
• Earth Spirit – Exquisitely-crafted gifts including art glass, hand-wrought sculptures, polished wood jewelry boxes and flowing carved stone figures.
• iStore – Provides customers with accessories for all their digital needs. Products include headphones, tablets and other accessories from Apple, Bose, Sony and more.
• Mosaic – Richly simple store offers dazzling jewelry, paintings, limited-edition prints, creative ceramics and much more.
• Techlab (two locations) – Offers tech items and accessories including headphones, chargers, and more.
• XpresSpa (two locations) – Travelers can relax and pamper themselves while waiting for their flight. Locations offer massages, facials, manicures and other treatments as well as products for purchase.
Contracts were awarded to Lagardere TR and Partners, LLC, Avila Retail Development and Management LLC, HG Phoenix Retailers JV, Paradies PHX LLC, and XpresSpa Phoenix Airport, LLC.
This is the first of a two-phase retail renovation. The second phase is underway and upon City Council approval, those new concepts will be open by the end of 2017.
For more information, visit skyharbor.com.