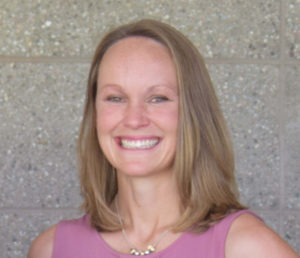 Get to know your fellow VYPers in this recurring series of Q&A sessions with some of the Valley's top young professionals. 
Meet Julie Sorensen, a business project specialist at Cigna Medical Group. In her current role at the medical group, she is responsible for implementation of changes to the model of care and other operational improvements. She holds a B.A. in Kinesiology from the University of Colorado, an M.S. in Health and Exercise Science from Wake Forest, and an Master of Health care Administration from Johns Hopkins School of Public Health. Prior to her career in health care, she had a seasonal "career" where she worked in Denali National Park and on a ranch southwest of Tucson! An avid hiker and backpacker, Julie is always looking forward to her next outdoor adventure, especially if it involves climbing Colorado fourteeners, which are mountain peaks with an elevation of at least 14,000 feet but less than 15,000 feet.
1. How is your work at Cigna rewarding?
As a health care administrator, I have the opportunity to make decisions and implement changes that truly improve the health and the care of our patients. For example, I've been involved in a large overhaul of our current care delivery model aimed at providing more personalized, coordinated and better care to patients while increasing satisfaction for our doctors and staff. I also have a unique situation in which I work for a company that is involved in both the delivery of health care and in the payment for those services, which allows me to understand both sides of the equation. I believe collaboration between payers and providers will be of the utmost importance to delivering a future of affordable health care, and it has been an incredible learning experience for me to be involved in those collaborations.
2. What causes are you passionate about?
My passion lies with creating a health care system that truly meets the needs of patients and providers through coordinated care, an emphasis on prevention and wellness, and an engagement of community resources. My dream is to see a future health care system that doesn't just treat a patient when they are sick, but also emphasizes primary care and prevention. I envision a health care system that also considers the social needs of patients and partners with community resources to address those patient needs.
3. As a VYP board member, what are your goals for this group?
I can say though that I would like to see the group establish a clear vision of what we want to accomplish in the next year, whether it's further bringing together young professionals in the Valley or furthering a cause in our community. I would like to end the year knowing that we made a difference and made something in the Greater Phoenix region better.
4. What's the greatest piece of career advice you have received from a mentor?
I had a mentor who gave me a great visualization that has forever stuck with me. He asked that I envision a jar filled with sand. Each of those grains of sand represented a part of life not critical to my survival or well-being, but present nonetheless in my daily life – job duties, errands, bills, social media or worrying about any of the above. Then, he asked me to think about the things that really matter in life – relationships with your family, true friends and your health. Picture those as polished stones, and try to place those in the same jars with the sand. When the jar is filled with sand, it is very difficult to fit many of those polished stones, but if you put the stones in first, the sand will fill the spaces around them. He ended by giving me a polished stone to keep in my pocketwith the words "take care of the stones."
5. When you consider the chamber's VYP members, what gives you the most reason for optimism moving forward?
Every VYP Board member is talented, motivated, and, above all, passionate about their careers, the Phoenix area, and making the community a better place. I believe that this program brings together an extraordinary group of individuals from such interesting and diverse backgrounds, and that we have tremendous potential to enact change for the better in the community.
6. What have you found most beneficial to being involved with the VYP program?
Being new to Phoenix, the Greater Phoenix Chamber's VYP events have given me exposure to many young professionals who are like-minded but come from very diverse backgrounds and professions. Now as a member of the board, I look forward to deepening those connections, and also beginning to understand how the public and private sectors interact and work together to help form the wonderful city of Phoenix.
7. How have VYP members helped you in your professional life?
Other VYP members come from such a diverse set of backgrounds and careers, I very much enjoy talking, networking, and learning about other career paths. I also believe that the health care industry, while very unique in many ways, has much to learn from other industries in the financial, operational and customer satisfaction realms, to name a few. Getting to interact with young leaders from a variety of industries is a great learning experience for me, and I hope to translate some of those learnings into my own current and future health care roles.
8. If you could shadow a Valley business or civic leader for a day, who would it be and why?
No one specific person comes to mind, but if I had my pick, it would be the leader of any of the prominent local Arizona businesses. Basha's, Harkins Theatre, and Ping are all great examples of independently owned businesses who have long made Phoenix their home and who have adapted to the tremendous change in the Valley while expanding their presence statewide, regionally, nationally, and even world-wide. If I had to opportunity to spend the day with such a leader, I would be especially fascinated to understand how they developed a vision, a strategy around that vision, and how they operationalize that strategy, as well as how each of those things evolves with a changing environment.
9. What is something your fellow VYPers would be surprised to learn about you?
I have a great fun fact to share! For any fans of the TV show South Park, I knew the man that inspired the character "Chef" in college. He worked at one of the dining halls on campus and he would routinely jokingly ask students if they wanted to go dancing while he was making their French toast in the mornings.
I also love DIY house projects. I'm a first-time homeowner here in Arizona, and have had an absolute blast learning how to do maintenance and home improvement projects – everything from removing the Bermuda Grass in the front lawn to installing new energy-efficient windows to fixing a leaking hose bib.
10. Favorite Arizona spot to get away for a weekend?
The Elkhorn Ranch. It's located 50 miles southwest of Tucson. It's the family-owned guest ranch where I worked as a server during my first stint in Arizona from 2009 to 2010. It has been owned by the Miller Family for three generations, and they are some of the most wonderful, hospitable people I have ever met. Their property backs up to the Baboquivari Mountain Range, making for some pretty spectacular views. займ на карту