A panel featuring members of the Arizona Diamondbacks leadership team stressed that regardless of the team's win/loss record, their barometer for success is providing fans with a great game experience each time they visit Chase Field.
The panel spoke during the Greater Phoenix Chamber of Commerce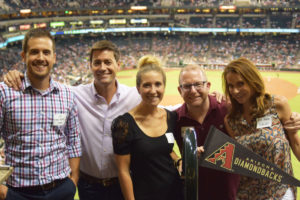 Valley Young Professionals (VYP) mixer on Aug. 25 prior to the Diamondbacks taking on the Atlanta Braves. The monthly VYP events encourage Valley professionals between the ages of 25 and 39 to make connections and discuss issues important to them, the Valley's future leaders.
Diamondbacks staffers Graham Rossini, VP of special projects & fan experience; Ryan Holmstedt, senior director of ticket sales; and Rayme Lofgren, director of marketing chatted for about 30 minutes with the group, discussing their efforts to keep fans coming back.
"We strive to deliver a first class experience for our fans. We can't compromise on how we build our brand and how we sell our product," Rossini said.
Key to selling the Diamondbacks to fans is to get them to actually come to the ballpark and experience the excitement of attending a game live, eating spectacular ballpark food and making great memories with friends and family. Heck, you might even end up on the big screen with Baxter, the team's high-energy mascot.
"You can't interact with fans if it is just constant ads, you need to be face-to-face," Lofgren said.
The trio also highlighted the organization's numerous avenues for giving back to the community. Employees are encouraged to create teams to brainstorm great ways to serve the community. Lofgren led her team to serve meals for families at Ronald McDonald House Charities. Holmstedt's team brought foster families out for a night to watch a game.
Event attendees really enjoyed hearing the staffers' stories of giving back
"It was inspiring to hear from people who are passionate about what they do," said Erin Miller of Sprouts Farmers Market.
"I can relate to the panel. I resonate with them because I always want to give 100 percent," said Kyle Sauvageau of University of Phoenix.
"I think it makes an impact when companies use their time to benefit the community," said Elizabeth Fowler of Office Depot. "I was impressed and encouraged that other organizations are out in the community."
Click here to register for the next VYP event on Sept. 29 at Seasons 52 Fresh Grill at Biltmore Fashion Park.
– Written by Danny Imes, digital marketing coordinator for the Greater Phoenix Chamber of Commerce.