To say that newly selected Valley Young Professionals (VYP) board member Bethany Bennick is well traveled would be a massive understatement. Highlights from the 20 countries she's visited include studying in Switzerland; teaching at the French Ministry of Education in northern France and managing the Phoenix operations of the Teach Abroad Program with Phoenix sister city Himeji, Japan.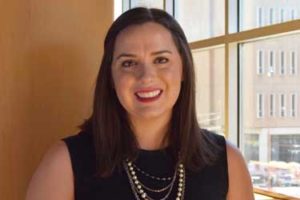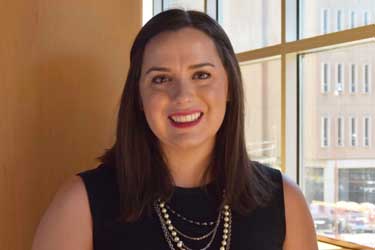 Bennick not only brings that perspective to her job as youth & education program manager for the public/private partnership Phoenix Sister Cities, those experiences guide her deep passion for cultural understanding.
 "I believe in the power of cross-cultural relationships," Bennick said. "These truly have the power to change the world for the better."
 As she prepares to serve on the Greater Phoenix Chamber of Commerce VYP board, Bennick plans on helping facilitate powerful networking opportunities and connecting like-minded groups and organizations. She even has plans to reclaim a good name for millennials in the workforce, in which she may have to call upon her skills as a former nationally ranked fencing champion. (But hopefully not!)
What do you do at the City of Phoenix?
I am the youth & education program manager for Phoenix Sister Cities, a public/private partnership with the City of Phoenix focused on the award-winning sister city relationships. We are housed in the city's Community and Economic Development Department. We also work as the city's International Relations and Protocol Office. Complicated, I know, but quite fun!
I develop and manage the high school Youth Ambassador Exchange Program with Phoenix's 10 sister cities. We select roughly 25 high school students in Phoenix and pair them with counterparts from around the world. They are home-hosted abroad in June and then the program reconvenes in Phoenix in July. It is a fantastic multicultural experience for all involved.
I also manage the Phoenix operations of the Teach Abroad Program with our sister city in Himeji, Japan. Phoenix college graduates are hired by the Ministry of Education in Himeji to serve two years as English teachers. I also train and manage the competitive internship program.
Which causes/activities are you passionate about?
I am supremely passionate about cultural understanding. Having lived abroad in France and Switzerland, and visiting over 20 countries, I believe in the power of cross-cultural relationships. These truly have the power to change the world for the better.
I am also a huge advocate for animal rights and regularly volunteer at a local shelter. I even have a leukemic cat with no teeth named Atlas!
With a brother in active duty military and a mother who worked in the Department of Veterans Affairs, I enjoy supporting veterans and rehabilitation efforts.
I am big on obstacle course races and completed the Spartan Sprint in February. I plan on doing the Spartan Super this upcoming year.
How long have you been involved in GPCC's Valley Young Professionals group? Why did you decide to apply to serve on the VYP board?
I got involved with VYP last October. I went to a mixer and ended up meeting some amazing and motivated people. I began to attend every session I could and eventually felt that with my experience and networks, I could learn, contribute, and grow from serving on the board.
How has VYP helped you in your career? What goals do you have as a board member?
The Community and Economic Development Department (CED) and Phoenix Sister Cities are both quite proud of this affiliation and I've been recognized for my involvement. I hope to use VYP for networking and connecting like-minded organizations. Perhaps even start a 'millennial' movement to take back our good name in the workforce!
As a board member, I hope to develop an impactful strategy for getting young professionals involved. This could be through social media outreach, marketing and word of mouth campaigns. There are plenty of other organizations we could partner with to make the most of this opportunity.
Have any mentors or role models? What's the greatest piece of advice you have received from them?
Of course! I have a few…
Hank Marshall, CED executive officer, honorary consul of the UK, and so much more. Hank is a powerhouse. His ability to run meetings, coordinating cross-cultural partnerships, and lead by example are ideal in a mentor. He often invites me to meetings and gives me a voice at the table. He is empowering, well-connected, and a genuinely fun guy, with a lifetime of international business experience to draw on. He is also the acting mentor for all incoming interns.Paula West, president/CEO, Phoenix Sister Cities; protocol officer, City of Phoenix Paula has truly believed in me and my abilities. I started at Phoenix Sister Cities and after a few short weeks, I was asked to apply for the position I have now. Paula is definitely a thinker and someone who has taught me to pay attention to the details. She is encouraging, well-traveled and highly regarded within the nonprofit community. I've learned a lot about managing a nonprofit from working alongside her.
Mel Sanderson, global affairs, Freeport-McMoRan, chairman of the board, Phoenix Committee of Foreign Relations (PCFR) Mel is a former foreign service officer with a spunky personality. She works at Freeport-McMoRan and was the recipient of the Chamber's Private Sector ATHENA Award in 2015. We grab lunch and chat about the universe, sharing podcasts and advice. She reminds me that it's okay to be yourself!
If you could shadow a Valley business leader or elected official for a day, who would it be and why?
I would LOVE to follow Ambassador Barbara Barrett around. She is an idol of mine and I've been fortunate enough to meet her. Otherwise, it would be fun to be a fly on the wall in meetings with the new Phoenix Police Chief Jerri Williams or Gov. Doug Ducey or Sen. Jeff Flake.
What is something interesting about you that isn't on your resume?
This is a fun, yet dangerous question. I used to be a nationally ranked fencing champion. I am addicted to HGTV. I love Harry Potter more than most people. And you already know about my toothless kitty.
Favorite Arizona vacation spot?
Sedona is too easy of an answer, although it's true. Antelope Canyon is also amazing. And Fossil Creek is a beautiful retreat.