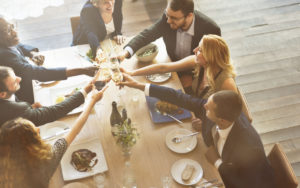 Summer BBQ season is winding down, but Valley temperatures remain high. If you're looking for a great meal, but the heat has got you down, let someone else do the work. From healthy options to hearty classics, Greater Phoenix Chamber of Commerce members have something to offer every appetite.
For the health conscious
Visit Mad Greens for a variety of healthy options including salads, wraps, panini sandwiches and more. Hosting an event? No problem, Mad Greens' catering services let your guests create a custom salad with the Mad Salad Bar, choose from fresh salads, wraps and even boxed lunches. The options are endless with Mad Greens and the best part; their helpful staff brings it all to you.
Looking for locally sourced ingredients and exciting new recipes? Check out Fox Restaurant Concepts' Flower Child for a meal that'll leave you feeling happy. From the sides to the entrees to the drinks, Flower Child puts its unique spin on a variety of classic recipes.
For the burger lover in all of us
Drive thru What-A-Burger and get that burger you've been thinking about since lunch. Go with a classic Whataburger or try one of its tasty creations like the Sweet & Spicy Bacon Burger.  Don't forget to get to grab fries with that!
If you're looking for a burger with a side of something sweet head to Smashburger. Grab a hand crafted Haagen-Dazs milkshake with your classic smashburger – loaded with cheese, ketchup, lettuce, tomato, pickles and Smash Sauce.
Get creative and build the burger of your dreams at Burger Theory! The build-your-own-burger is a dream come true, pick your patty, bread and all your fixins, made to order just for you. Too many options to decide? Choose from unique burger recipes like the Philly burger topped with grilled peppers, onions mushrooms and jack cheese.
For those who just want to stay in
We all know the heat can be a bit much, especially at the end of the day, so turn on your Netflix and give Domino's a call. Choose from pizza, pasta, sandwiches and even dessert. There's something for everyone and all you have to do is call, let the feast come to you and indulge.
For anyone who wants great BBQ
You don't want to miss the famous Waldo's BBQ. Visit the original location in Phoenix or stop by one of Waldo's express locations. Either way, you can't go wrong with barbecue slow cooked over mesquite wood and delicious side dishes and desserts.
 -Written by Alexie Chavez, marketing coordinator for the Greater Phoenix Chamber of Commerce.