(PHOENIX) – Greater Phoenix Chamber of Commerce President & CEO Todd Sanders has been named the 2016 Leader of the Year for economic development by the Arizona Capitol Times, the state's leading politics and government newspaper.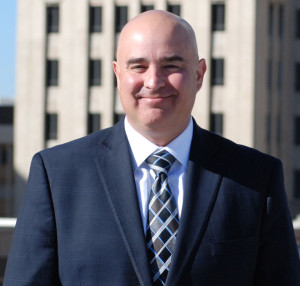 The newspaper's annual Leaders of the Year awards recognize outstanding individuals and organizations for advancing public policy to positively impact the state and lives of Arizonans.
"I'm extremely proud to accept this recognition on behalf of the GPCC Board of Directors, my incredible Chamber team and the entire business community," Sanders said. "Their collective dedication to strengthening our economy and growing Arizona-based businesses is inspiring."
The Chamber drives economic development in the region through Phoenix Forward >>, a coordinated, strategic approach that brings the resources of collaborative partnerships with the Arizona Commerce Authority, city of Phoenix and Maricopa County to the front doors of businesses. The initiative strengthens the region's competitive edge, connects businesses to vital resources, gathers industry intelligence, influences public policy and promotes the region as the economic hub of the southwestern United States.
This marks the second time Sanders has won a Leaders of the Year award. In 2010, he was recognized as the Leader of the Year in the business category.
About the Greater Phoenix Chamber of Commerce
Representing 2,400 businesses across Metropolitan Phoenix, the Greater Phoenix Chamber of Commerce is Arizona's largest Chamber. The Chamber supports the growth and development of business by offering networking and marketing opportunities, money-saving programs and a voice in government, keeping its members informed, connected and prosperous. The Chamber also enhances members' success by promoting economic development, entrepreneurship and a connection to the community.
###
MEDIA CONTACT:
Josh Coddington
O: 602.495.6481 | C: 480.415.4644
jcoddington@phoenixchamber.com
Follow:
@phxchamber
facebook.com/phxchamber
www.phoenixchamber.com/linkedin
www.phoenixchamber.com/youtube
Learn more:
www.phoenixchamber.com
info@phoenixchamber.com
602.495.2195