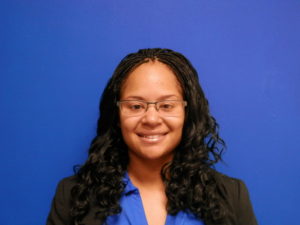 Andrea Banks is a United States Air Force veteran who is very passionate about helping veterans succeed. Andrea has over 8 years of experience in higher education which began as an adjunct English instructor. While teaching, she decided that she wanted to be able to help students from another platform, so she began pursuing her M.Ed. in Higher Education Administration at ASU.
While at ASU Andrea completed a Management Internship in Veteran Affairs where she assisted student veterans in enrolling, applying for their educational benefits and taught veteran specific student success courses and orientations. Upon graduation from ASU she began working for Maricopa Community Colleges as both faculty and staff in the roles of Student Success Coach, Learning Center Coordinator, and currently as the District Veteran Services Coordinator.
Andrea has conducted extensive research on veteran's issues, and is a contributing author of the April 2014 issue of the Arizona Town Hall Report entitled "Arizona's Vulnerable Populations" where she wrote about the current issues that veterans face. Andrea takes great pride in helping veterans transition from the military to college life and is working on several veterans initiatives to ensure they are able to achieve their goals.
buy viagra online займ деньги в долгчастный займ под расписку красноярскзайм у частного лица без предоплат