Inspiring numerous others, this year's ATHENA Awards finalists embody what it takes to be leaders in their professions and communities.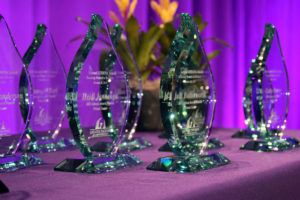 The ATHENA Awards honor women who have shown great leadership within their industry, mentored women throughout their career and dedicated themselves to the community.
They shared quotes and mottos that inspire them to keep reaching higher.
Private Sector finalists
"So what's next?
Assume it's going to be great and often times it is great.
– Catherine Scrivano, president, CASCO Financial Group
"Inspire health."
Our job is not to change behavior, our job is to inspire, motivate and find the key to unlock motivation so people will change themselves.
– Dr. Susan Wilder, CEO, LifeScape Premier, LLC & LifeScape Medical Associates
"A year from now you're going to wish you started today."
I made a big change in my health and I think, what if I just did it five years ago? So it's best to not hold back and just do it now.
– Nicole Goodwin, business litigator & chair, Greenberg Traurig, LLP
"Run fast and live fearless."
– Rebecca Clyde, founder, Ideas Collide
Public Sector finalists
"Success is when preparation meets opportunity."
You have to be prepared any day because opportunities are always around us.
– Carrie Smith, chief operating officer, Foundation for Senior Living
"I am not here to make friends, but to get the job done."
Work is not a social club. If I want to be liked I'd go home. At work, if I have to make a tough decision I have to make it and some people won't like it.
– Dr. Maria Harper-Marinick, chancellor, Maricopa Community College District
"What if – imagine a possibility that is different"
Constantly planting that possibility in other people's heads is what we call in the educational world "cognitive dissonance." If you can imagine a different possibility, you can create it.
– Kristine Morris, chief deputy superintendent, Maricopa County Education Service Agency
"You are the happiest person if you have someone to love, something to do and something to look forward to."
This is a quote I share with mentees when they have trouble figuring out what makes them happy.
– Elena Zee, president & CEO, Arizona Council on Economic Education
Young Professional finalists
"People won't remember what you said, but they will remember how you made them feel."
– Catherine Alonzo, partner, Javelina
"In an entrepreneur's life there will be high highs and low lows and you can't get distracted my either."
– Julia Meyerson, founder and executive director, Vista College Prep
"The worst they can say is no and they can't take away your birthday."
– Vanessa Valenzuela Erickson, workforce strategy director, Partnership for Economic Innovation
 – The 29th Annual ATHENA Awards Luncheon is on Wednesday, Oct. 26, 2016. Click here to register.