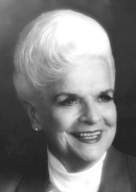 The Greater Phoenix Chamber of Commerce expresses condolences to the family and friends of Arizona icon Rose Mofford, who passed away today at the age of 94 in hospice care in Phoenix.
"Rose Mofford came to lead the state at a time when a steadying approach was very much needed," said Greater Phoenix Chamber of Commerce President and CEO Todd Sanders. "I remember her for her quick wit, practical approach and love for our state and all Arizonans. We lost an icon today."
Mofford, a native Arizonan, became Arizona's first female governor in 1988 after Evan Mecham was removed from the post. Prior to becoming governor, Mofford was elected Arizona secretary of state in 1978, 1982 and 1986, winning handily each time. In addition to being easily recognized by her trademark beehive hairdo, she is remembered for her unifying approach to policy making, sticking to her word and great sense of humor.
She was a strong advocate for education, children, elderly and disabled Arizonans, economic development and increased transportation funding.
Mofford also left her mark outside of the political arena. She helped keep Cactus League spring training baseball in Arizona. She was a charter member of the Arizona Softball Hall of Fame and the City of Phoenix named Rose Mofford Sports Complex in her honor.
After retiring with her 50-plus year career in elected office behind her, Mofford stayed busy and continued to dedicate her time to helping Arizonans.
"From her hair to her drive for getting things done to her legendary accessibility to those that she served, she was one-of-a-kind," Sanders said. "She will be missed."
About the Greater Phoenix Chamber of Commerce
Representing 2,400 businesses across Metropolitan Phoenix, the Greater Phoenix Chamber of Commerce is Arizona's largest Chamber. The Chamber supports the growth and development of businesses by offering networking and marketing opportunities, a voice in government, and keeping its members informed, connected and prosperous.
###
Follow online:
@phxchamber
facebook.com/phxchamber
www.phoenixchamber.com/linkedin
www.phoenixchamber.com/youtube
Learn more:
www.phoenixchamber.com
info@phoenixchamber.com
602.495.2195