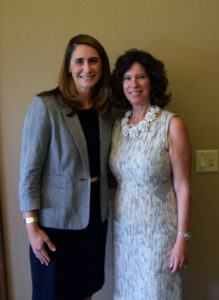 Lattie Coor and Sybil Francis founded the Center for the Future of Arizona (CFA) in 2002, a time of major change and economic prosperity in Arizona, to direct and propel Arizona's educational and economic success.
CFA, a self-described "do-tank," aims to accelerate economic prosperity, quality of life and opportunities for Arizonans. The organization creates action plans for high-impact issues such as, education, jobs, infrastructure, health care, environment, community, citizen engagement and retaining young talent.
During September's Professional Women's Alliance luncheon, Francis, CFA's executive director, shared the benefits the organization has brought to Arizona, focusing largely on the role education plays in overall success.
"The key to individual success and to state and national prosperity lies in the educational attainment of our citizens," Francis said.
Francis offered a few examples during her talk of the ways CFA seeks to affect positive change in Arizona's K-12 education system.
First, she says Arizona has some of the country's top-performing schools, but availability to high-quality education is sparse. CFA's goal is to achieve educational excellence and equity for all K-12 students.
Hand-in-hand with educational access is ensuring the state's education system is adequately preparing students for their future careers. Workforce development is a top concern of many industry leaders across all sectors.
Francis also believes that Arizona high schools are not properly preparing enough students to enter public universities.
"Only 45 percent of public high school graduates are eligible for public universities," Francis said.
To help empower parents, CFA's Education Progress Meter allows Arizonans to track local schools' progress. The project, in collaboration with Expect More Arizona, provides numerical scores to several school metrics including preschool enrollment, third grade reading, eighth grade math, high school graduation, opportunity youth, college going, post-secondary attainment and teacher pay.
The meter also provides access to resources to help motivate people get involved in their communities and take an increasingly active role in overcoming the obstacles facing the state's education system.
"The center focuses on how to reinvent education to work better for everyone," Francis said.
– Sybil Francis' presentation was part of the Chamber's monthly Professional Women's Alliance luncheon. Next month, this popular series features a presentation from Mi-Ai Parrish, president & publisher of Republic Media. Register here.
– Written by Alexie Chavez, marketing coordinator for the Greater Phoenix Chamber of Commerce.