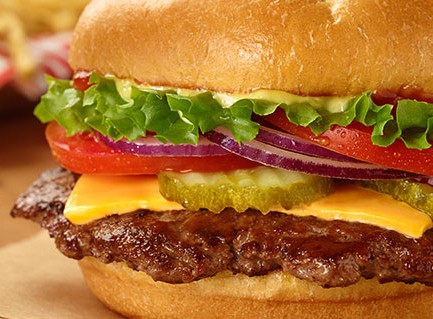 Cheeseburgers are an American classic. They are THE go-to staple for summer picnics and barbecues. To celebrate National Cheeseburger Day, gather some friends together and visit these Valley burger hot spots to scarf down America's favorite sandwich on Sunday, Sept. 18.
Whether it's a late-night fix or something more fancy, get ready to loosen your belt, sit back, and take in the glory that these Valley burger joints have to offer.
ARROGANT BUTCHER's AB Cheeseburger is too good to pass up. Juicy and made to order, this cheeseburger is topped with grilled onions, pickles and Prairie Breeze Cheddar.
Details: CityScape | 2 East Jefferson | Phoenix 85004
Don't rule out ordering a cheeseburger at BLUEWATER GRILL. Although it's famous for its oyster bar, a sushi bar and fresh fish market, you might just get hooked on its Angus Cheeseburger made with certified Angus beef served on a toasted challah roll with your choice of side.
Details:  1720 East Camelback Road | Phoenix 85016
BURGER THEORY offers build-your-own burgers, bar food and craft beer served in a bright dining room with a patio. Go for the Lone Star burger with cheddar cheese, thick-cut bacon, parmesan-panko onion ring and BBQ sauce. If you're really hungry, go for The Boss: two burgers stuffed with bacon, onion, sharp cheddar, Swiss cheese, lettuce and KGB (Killer Good Burger) sauce.
Details: 4401 E McDowell Road | Phoenix 85008
Visit CARL'S JR for your  bacon fix any day of the week. The bacon 3-way burger won't disappoint. It comes with applewood smoked bacon strips, bacon crumbles and bacon jam on a 100 percent black angus beef patty, served on a premium bakery bun.
Visit  www.carlsjr.com  for Valley locations near you.
CULINARY DROPOUT's trio of Valley locations serves the very best in unique gastro-pub fare. Try the Pub Burger with havarti cheese, bacon and BBQ sauce or go for the double M.A.C cheeseburger generously topped with onion, lettuce and pickles.
Farmer Arts District | 149 S. Farmer | Tempe  85281
The Yard | 5632 N. 7th Street | Phoenix  85014
Scottsdale Waterfront | 7135 E. Camelback Road | Scottsdale 85251
Celebrate the perfect pairing of beer and cheeseburgers at GORDON BIERSCH. The classic, fresh steak burger with cheddar, lettuce and tomato is hard to beat. Gordon Biersch elevates the burger to new levels with its Kobe Black & Blue burger, a Kobe-style Wagyu beef burger with bleu cheese sauce and grilled red onions. If you're famished, go for the Double Bacon Cheeseburger, a fresh 3/4 lb. steak burger piled high with crispy bacon.
Details: 420 S. Mill Ave. |  Tempe 85281
Visit www.gordonbiersch.com for other Valley locations.
A classic, turn-of-the-century American Pub in downtown Phoenix, MAJERLE'S  SPORTS GRILL offers the Mama Majerle's burger with sautéed mushrooms and grilled onions, smothered with mozzarella cheese. If you're feeling adventurous, try the Fried Jalapeno burger with pepperjack cheese, avocado and fried jalapenos drizzled with chipotle mayo.
Details: 24 N. 2nd Street | Phoenix 85004
Visit http://majerles.com for other Valley locations.
We'd certainly be remiss if we didn't include McDONALDS. If it wasn't for Ray Kroc meeting successful restaurateurs Dick and Mac McDonald, the fast-food industry likely would not be what it is today. Ray Kroc's legacy continues to this day providing customers with great tasting, affordable food. Whether you choose a McDonald's signature Big Mac or its quarter pounder with cheese, you won't break the bank.
Visit www.mcdonalds.com for Valley locations near you.
Handmade with love, NORTH ITALIA delivers on its Euro-inspired version of the American classic with its signature burger topped with Fontina cheese, grilled onions, roasted tomato jam, arugula and aioli.
Details: 4925 N 40th Street  | Phoenix 85018
With a massive patio that feels more like southern France than southern Scottsdale, OLIVE & IVY's take on the bacon cheeseburger is topped with caramelized onions, aged cheddar and arugula and is sure to please.
Details:  Scottsdale Waterfront | 7135 E. Camelback Road | Scottsdale 85251
PHOENIX CITY GRILLE is known for focusing on locally sourced products that are grown and produced here in Arizona. Made with fresh ground chuck and served on a toasted bun, the green chile cheeseburger comes nicely dressed with roasted green chiles, Oaxacan cheese and pickled onions.
Details: 5816 N. 16th Street | Phoenix 85016
SEASONS 52 is a casually sophisticated fresh grill and wine bar that invites you to discover the freshest ingredients of the season. Try the signature Angus burger that's blended with mushroom duxelle and topped with butter lettuce, roasted tomatoes and house-made pickles on a brioche bun.
Details: 2502 E. Camelback Road | Phoenix 85016
Voted best burger in more than 20 U.S. cities, SMASHBURGER is known for its fresh, never frozen, 100 percent certified Angus beef burgers that are smashed on the grill to sear in the juices, creating an upscale quality burger packed with flavor. The Classic Smash and the Bacon Cheeseburger are both sure to please, but the stand-out burgers are the Spicy Jalapeno Baja burger and the Truffle Mushroom Swiss.
Visit http://smashburger.com for the Valley locations near you.
A welcoming, craftsman-style eatery, THE GREEN HOUSE's Kobe Burger topped with aged cheddar, bacon, butter lettuce, vine-ripe tomato and 1000 Island dressing is sure to hit the spot.
Details:  Kierland Commons | 15024 N Scottsdale Road | Scottsdale 85254
Celtic-themed pub TILTED KILT offers its wicked Boston Big Arse Burger with maple pepper bacon, American cheese, Samuel Adams Boston Lager caramelized onion relish, lettuce and ripe tomato. Or go with the Hot Mess Burger, a fork-and-knife burger with chili, cheddar cheese and smothered with Monterey jack cheese sauce.
Details: 660 W. Warner Road | Tempe 85284
The first WHATABURGER hit the grill back in 1950. The big 5-inch buns are toasted, and as far as toppings go you can order whatever you like. Grilled jalapenos, extra bacon, two slices of cheese, grilled onions, no tomatoes, no pickles, no mustard? No problem. Whataburger makes your burger "Just Like You Like It" and it's always served hot and fresh. And don't forget asignature root beer shake to wash it all down.
Visit http://whataburger.com for the Valley locations near you.
Few things in life are better than a tasty milkshake and a great Certified Angus burger. At ZINBURGER, you can build your own burger from the ground up or add more to its signature creations. Choose from cheeses and other freshly prepared toppings. While you're there, be sure to splurge on hand-cut zucchini, sweet potato and truffle fries. Visit www.zinburgeraz.com for locations in Gilbert, Phoenix and Scottsdale.
срочный займ на карту vivus займзайм на счет в банкезайм на карту без отказов