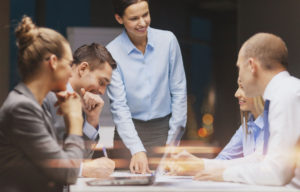 They inspire, motivate and mentor. They set an example and offer advice. They teach and mold us into a better version of our self. A role model is someone who others admire and try to emulate. The influence of role models is not limited to already-successful people. Some may argue that seeking out a good role model is the key to achieving success.
Young professionals reveal the mentors that impacted their professional development most and inspired them along the way.
"My biggest role models are my parents. They are my biggest fans and supporters. I can always count on my mom to give me honest feedback and advice and encouragement to focus on the reality of any situation. They instilled in me a great sense of self-worth and taught me to never settle for less. I am so lucky to have them in my life."
– Rita Rabbani, sr. account manager, Ideas Collide
"My first mentor was a manager from a job I had in college. She came to work each day with a positive attitude and encouraged all her employees to maintain a healthy work/life balance. Most importantly, she encouraged me to follow my dreams and helped make it possible for me to study abroad. She taught me I can achieve anything I set my mind to, no matter how big the goal."
– Andrea Thomas, development coordinator, Southwest College of Naturopathic Medicine
"My father Michael Cripe Sr. is incredibly patient and kind. He is a huge supporter in every aspect of my career and challenges me to be the best in every way possible. As an incredible father and grandfather, he is always there whenever needed."
– Michael L. Cripe, sr. government relations specialist, Cox Communications
"My grandma because of what she has done in her life. She has faced so many hardships and devastating situations in her lifetime yet she remains one of the most generous, caring, hardworking and optimistic people I've ever known. I strive to be like her in all of those ways, but she has also inspired me to do many things that she never had the chance to do like going to college and traveling around the world."
– Emilie Jarboe, program coordinator, Cancer Support Community
"David Wade, who was my boss and now business partner. He always treated me as the person I was on that day and not the person I was when he met me. I started as his assistant picking up his kids, dry-cleaning and handling the schedule. It would have been really easy to get me stuck in that role, but as I progressed professionally he always caught up with that and now we are business partners and he treats me as an exact equal. I really admire him for that."
– Catherine Alonzo, partner, Javelina
"I am very fortune to have a number of role models, one of which being David Rousseau, the president at SRP. I love that he is always ready and willing to extend his influence or any opportunity that he is aware of to someone that he thinks will take advantage of it and will do something positive for the community. In doing so he really takes the time to learn about a person and uses that personal relationship to ensure that any connections that he is making or opportunities he is presenting are really meaningful to that person."
– Vanessa Valenzuela Erickson, workforce strategy director, Partnership for Economic Innovation
"My former boss at the Democratic Governors Association. I started as his assistant and was promoted to be policy director by my third year because of his belief in me. It was an incredible experience to sit in a room with governors and advice them and to have the opportunity to go to the White House. It was because of him and his belief in what I can do and pushing me to take on new things."
– Julia Meyerson, founder and executive director, Vista College Prep
– Written by Danny Imes, digital marketing coordinator, Greater Phoenix Chamber of Commerce.