The Greater Phoenix Chamber of Commerce announced the 2016 ATHENA Public Sector, Private Sector and Young Professional Award recipients during its 29th Annual ATHENA Awards Luncheon Oct. 26 at the Westin Kierland Resort & Spa.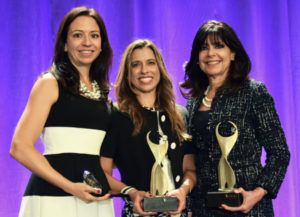 Rebecca Clyde, co-founder & CXO of Ideas Collide, was awarded the 2016 ATHENA Businesswoman of the Year Award in the private sector. Maria Harper-Marinick, Ph.D., chancellor of Maricopa Community College District, earned the 2016 ATHENA Businesswoman of the Year Award in the public sector. Catherine Alonzo, founding partner of Javelina, took home the 2016 ATHENA Young Professional Award.
"All of the 2016 ATHENA Award finalists do more than push the boundaries of achievement, they shatter them," said Todd Sanders, president and CEO of the Greater Phoenix Chamber of Commerce. "These businesswomen and role models are respected leaders who embody the spirit of ATHENA and understand that giving back is a major component of personal success. Their altruism, passion, mentorship and dedication are an inspiration and make a positive impact on our community. It is an honor to highlight their achievements and celebrate their leadership and vision."
The event marks the 29th year the Greater Phoenix Chamber has honored Valley businesswomen. The ATHENA Awards, named after the Greek goddess of courage and wisdom, is a program of ATHENA International, a foundation dedicated to creating leadership opportunities for women.
"I'm overwhelmed with gratitude…this is a huge honor," said Rebecca Clyde, 2016 ATHENA Businesswoman of the Year Award recipient in the private sector. "I've met so many outstanding women through the ATHENA process, it's been an incredible journey. I embrace the concept of inclusive leadership in which we collectively achieve so much more with representation from diverse groups. Together, we can do more.
Growing up in a large family and having to fight to be heard, Clyde learned at a young age what it means to work hard. Today she is driven by the desire to be part of something big that gives back to the community. Inspired by a breast cancer survivor in her family, Clyde is very involved with Susan G. Komen of Arizona. Clyde strives to create a better world for her two young daughters and son to inherit.
"I'm so grateful…it is humbling when you are surrounded by amazing women," said Maria Harper-Marinick, 2016 ATHENA Businesswoman of the Year Award recipient in the public sector. "Receiving this award is a personal celebration of all the things that I represent. I believe that everyone is born with the potential for greatness. This award makes me even more inspired to serve the community and serve 230,000 people in the Maricopa Community College District."
Risk-taking, problem-solving and openness to change are all qualities exemplified by Harper-Marinick. She oversees 10 colleges and has 20 years of experience in the Maricopa Community College District system, has dreamed of being in education since age five. As a mentor, she teaches self-awareness and personal reflection as keys to success and empowerment.
"I honestly cannot take full credit for receiving this honor…it's a product of so many other people," said Catherine Alonzo, the 2016 ATHENA Young Professional Award recipient. "Receiving this award makes me reflect on how interconnected we are. My mentors have made such an impact on my life. In turn, I am grateful for the opportunity to mentor others and make a difference in their life. It's very fulfilling."
Traveling to Arizona from the United Kingdom in pursuit of a master's degree was only supposed to be temporary for Alonzo, but after volunteering on a political campaign and meeting her soon-to-be business partner and mentor, she never looked back. Helping others reach their goals and see themselves as leaders is a priority to Alonzo which is why she takes mentoring so seriously. She is inspired by people who fight for change and is a strong advocate for the LGBT community and equality.
Clyde, Harper-Marinick and Alonzo were chosen from among 11 ATHENA finalists, who were selected from a large group of nominations received in August. The following is a complete list of the 2016 ATHENA finalists:
ATHENA private sector finalists:
Rebecca Clyde, Co-founder & CXO Ideas Collide
Nicole Goodwin, Shareholder, Greenberg Traurig, LLP
Catherine Scrivano, President, CASCO Financial Group
Susan Wilder, MD, Founder & CEO, LifeScape Premier and LLC & LifeScape Medical Associates
ATHENA public sector finalists:
Maria Harper-Marinick, Ph.D., Chancellor, Maricopa Community College District
Kristine Morris, Chief Deputy Superintendent, Maricopa County Education Service Agency
Carrie Smith, COO, Foundation for Senior Living
Elena Zee, President & CEO, Arizona Council on Economic Education
ATHENA Young Professional finalists:
Catherine Alonzo, Founding Partner, Javelina
Julia Meyerson, Founder & Executive Director, Vista College Prep
Vanessa Valenzuela Erickson, Workforce Strategy Director, Partnership for Economic Innovation
Congratulations to the 2016 Community Legacy Honoree Gov. Jane Dee Hull
The Greater Phoenix Chamber of Commerce recognized former Gov. Jane Dee Hull as its 2016 Community Legacy Honoree. From being the first female speaker of the Arizona House of Representatives to being the first woman elected governor of the Grand Canyon State, trailblazer Jane Dee Hull truly embodies the leadership and dedication recognized by the Community Legacy Honor.
The Community Legacy Honor recognizes an outstanding female former elected or public official who has dedicated her work and her life to improving the community, supporting women and being an exemplary role model for female leadership. Her work and efforts have left a lasting legacy on her community.
Concluded GPCC CEO Sanders, "I am impressed by the spirit, dedication and accomplishments of all of our 2016 ATHENA nominees, finalists and recipients.  They inspire us to live without limitations. Not only do they demonstrate personal and professional excellence, they make our communities better and inspire us to be the best versions of ourselves."
To view the article in its entirety, visit here.