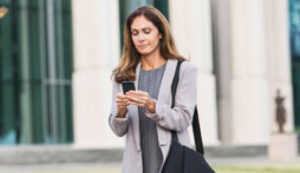 Increasingly, people who text while they are walking or who are playing games, listening to music or reading on their mobile devices are falling down stairs, tripping over curbs or stepping into traffic, according to recent reports.
Published articles regarding distracted walking has prompted an awareness campaign that was launched by the American Academy of Orthopedic Surgeons.
A year ago, market research company Ipsos conducted a national survey that asked participants their perceptions of distracted walking. Nearly 40% said they had witnessed a distracted walking incident, and 26% said they've been in an incident themselves.
Emergency-room hospital visits for injuries involving distracted pedestrians on cellphones more than doubled between 2004 and 2010.
But while 76% of U.S. adults believe distracted walking is a "serious" issue, most place the blame on others. Some 74% of Americans say "other people" are usually or always walking while distracted, while only 29% say the same about themselves.
Because distracted walking has become a real thing, some insurance carriers are suggesting that employers create formal policies to address distracted walking as part of a policy on the appropriate use of personal devices in the workplace.
CopperPoint provides safety tips and more in its SafetyResources library found on its website, www.copperpoint.com. By going online, you can download a free safety plan template, order safety training cards or posters, download informational brochures regarding workers' compensation insurance and watch work safety videos. CopperPoint has also launched www.pinpointnews.net, a blog written by subject matter experts designed to answer labor law, workplace safety, human resources and workers' compensation questions that plague small business employers.