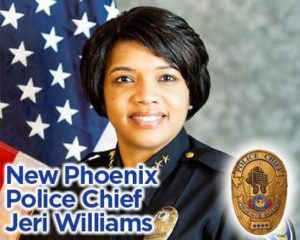 The world moves at the speed of information technology, and social media in particular. Yet, we are often disconnected from local, national and global policy decisions and political processes that shape our communities.
New City of Phoenix Police Chief Jeri Williams, the first female to hold the position for the city, recently discussed her department's mission, challenges and the priorities she hopes will guide positive change towards one cohesive group in Maricopa County law enforcement that is viewed as both just and transparent.
With the backdrop of this year's headline-grabbing coverage regarding protests and police-civilian interaction, Williams shared her perspective on how community connectivity can mitigate issues escalating into violence.
"I think it's about building a strong partnership between law enforcement, the community, business leaders, schools and other groups and organizations," Williams said to an audience of Arizona business leaders. "A perfect example is when high school students across Phoenix recently staged a coordinated walkout to protest the election of Donald Trump."
Williams explained, "For this situation, I called the school superintendents and asked for assistance in finding space and creating opportunities for the kids to protest and exercise their voice on campus so that they're safe and that the schools can manage it with the help of law enforcement as needed."
Williams says that people want to exercise their rights and be heard.
"I think that as a society we should provide that option to people," she said. "Police have a responsibility to make sure people are safe. And we have the responsibility to make sure that people have the ability to exercise their rights. But oftentimes, just like with this 1,000-student protest, it happens at a moment's notice."
Williams added, "Law enforcement has to keep up with what's going on in social media and in society in order to be those good stewards to keep people safe."
Paramount to improving civil discourse, Williams encouraged greater participation in civic engagement and community activism.
"I encourage people to send in questions, concerns, feedback and comments to the City of Phoenix's website," Williams said. "Come to Phoenix City Council meetings. Pay attention to what's going on civically. We all need to better engage and interact with one another. Together we can make a positive impact."
Williams clearly understands that change has to begin with her. As police chief, she plans to create a business coalition, a platform and group to convene and share concerns with Phoenix Police.
"I would love to form a coalition and have frank discussions about how to get more engaged and better connected with one another," she said. "Because that is what's going to keep our community safe."
Williams discussed lessons learned from recent police-involved violence and lessons learned from other communities.
"People don't want to be commanded and controlled," Williams said.
Williams says that talking to each other, providing transparency and being dialed-in is the answer. Frank conversations are needed, she says.
"Oftentimes there is this allure of law enforcement…like we're trying to hide things and we can't let people see what's going on," she said. "We are becoming so much more transparent for all the right reasons now."
"We're shifting now to a culture of service…the culture of being the guardians of democracy, rather than just the enforcers of democracy," Williams added.
Although it's only been two months since Williams took the helm, she shared a bit about the legacy she may leave when her time as Phoenix Police chief comes to an end.
"There's a disconnect now between law enforcement and the community," Williams said. "I really want to change that so when we answer a radio call, write a ticket or take care of someone in a domestic violence situation, everyone knows that what we did was just and transparent."
– Written by Jill A. Brownley, marketing and communications director, Greater Phoenix Chamber of Commerce.