Phoenix Sky Harbor International Airport is one of the 10 busiest in the nation for passenger traffic. On a typical day, more than 1,200 planes and 220,000 passengers arrive at and depart from Sky Harbor. With a $79 million daily economic impact, it's easy to see why Sky Harbor is the largest economic engine in Arizona.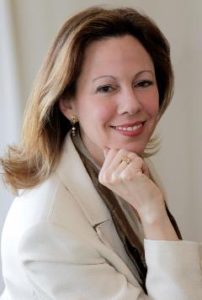 "It's a critical transportation hub for the country that directly shapes and impacts our local economy," Assistant Aviation Director Deborah Ostreicher said to an audience of community and business leaders at the Tempe Chamber of Commerce's recent Hot Topics Monthly Seminar.
With a total annual impact of $28.8 billion, Sky Harbor clearly illustrates it is more than just America's Friendliest Airport®, it is a robust economic hub that's also vital to job creation.
"So when you think about what does that mean for the Valley and for Arizona…it's a big deal," Ostreicher said.
Also a big deal is the airport recently being named the best airport in the country by ThePointsGuy travel site. Based on data rather than public opinion, the factors that pushed Sky Harbor to the No. 1 spot included proximity to downtown Phoenix, excellent delay and cancellation scores, a convenient light rail system and the multitude of dining options.
Ostreicher provided some insight on passenger travel growth projections and shared the factors that affect profitability for the overall airline industry.
"The recession and consumer confidence really put travel and vacations on hold for a lot of people resulting in people flying less," Ostreicher said. "The good news is that the trajectory continues to go up over time. Ultimately, as the economy continues to improve, we will to see more passengers traveling by air."
Adding new flights is a topic that Ostreicher is passionate about and eager to share insight on.
"How do we get a new flight…? I am asked that question a lot, particularly overseas flights," Ostreicher said.
Ostreicher reviews reports on a daily and monthly basis, comparing 2016 data to prior years. In addition to staying on top of the exact number of markets various airlines operating out of Sky Harbor serve, she constantly tracks how many people are regularly going to international destinations such as Paris, Amsterdam and Tokyo.
Traveling overseas is something that is important to people, she says.
"The economic impact and the customer demand proves it," Ostreicher said. "There is a $3 billion economic impact each year just from international flights."
So then, just how is a new flight born? It starts with demand, Ostreicher says.
"Before I even reach out to an airline to get the conversation going, I have solid numbers of travelers flying to overseas destinations, which shows a clear demand," Ostreicher said.
"There is the idea that if an airline just creates a new flight, people will go there," Ostreicher added. "But an airline is not going to blindly enter into a new market with the hope that people will buy tickets at a profitable rate. There's has to be some demand there first."
Ostreicher says that is exactly why a key part of her role is building relationships, working with the business community, the tourism industry and meeting with airline representatives regularly to see if she can entice them into flying into Phoenix. The business community can help to create that demand, she says.
So what are we doing as a city to create that demand?
"Economic development efforts are a priority," said Anne Gill, CEO of the Tempe Chamber of Commerce. "Attracting and bringing in new businesses creates that demand, as well as making the Valley a good climate for businesses to grow and expand."
Gill's passion and dedication for promoting the community and creating a strong local economy shows in all that she does. Her commitment can be seen through her strong relationships with Tempe Economic Development, Greater Phoenix Chamber of Commerce, Arizona Chamber of Commerce and Industry, as well as other vital Arizona organizations such as GPEC and the Arizona Commerce Authority that focus on economic development and business retention and expansion strategies.
"We have to do this together if we want more nonstop overseas flights," Ostreicher said. "That is what it will take."
Ostreicher says that she often is asked why Los Angeles has so many more international flights than Phoenix.
"Phoenix cannot compare itself to L.A. when it comes to the population and the number of people living there, let alone the demographics altogether of their international population," Ostreicher said. "The population of Los Angeles is 13.3 million; Phoenix is 4.5 million."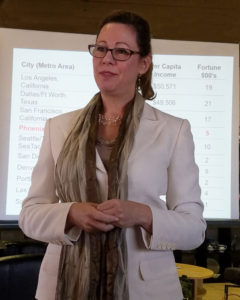 "In addition, Phoenix does not have the same robust international population as Los Angeles, she said. "I think we eventually will, and it will create demand for nonstop overseas flights."
Building on the momentum of being ranked the best airport in the country and working on securing new international flights, Ostreicher proudly shared her excitement on the progress of the remodeling of Terminal 3. The $150 million portion of the remodel project is slated to open to passengers by the end of the year.
"Terminal 3 is nearing the completion of Phase 1 of its remodel," she said. "What we have now is a totally different look from the 1970s."
By the end of the year, the west end of Terminal 3 will be remodeled and open. At which time the east end of Terminal 3 will be closed for remodeling. Terminal 3 is expected to be completed in 2020.
"It's been really interesting to watch this transformation unfold," Ostreicher said. "We haven't stopped using Terminal 3 as the remodel has been taking place…it's like fixing a car as it's moving down the road at 70 miles per hour."
– Written by Jill A. Brownley, marketing and communications director, Greater Phoenix Chamber of Commerce.