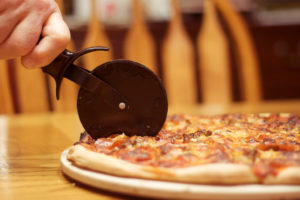 Whether it s thin crust, deep-dished or stuffed, it's no surprise that pizza has become an American food icon. With the most common toppings being pepperoni and sausage, to more unique choices (made popular in other countries) such as squid and honey, the combination possibilities are endless.
As one of the most popular and beloved foods in the United States, it's no wonder that pizza has a whole week dedicated to celebrate its stamp on the American population.
National Pizza Week, the second week in January, celebrates the food perfect for any occasion. The hardest part might just be deciding on the toppings. Luckily, several Chamber members offer a variety of pizza eateries to ensure all your favorites can be enjoyed.
 Sauce Pizza & Wine brings together everything that is Italian to their extensive menu including their hand-stretched pizzas prepared using scratch-cooking techniques. Going the extra mile, Sauce adds convenience with its 14 Arizona locations and new online ordering and delivery.
Mixing Mexican culture with traditional American style pizza is what distinguishes Pizza Patron from its competitors. While providing the classics, Pizza Patron also offers many Mexican-inspired dishes and prides itself in being a great value in the pizza industry.
If the downtown scene is more your style then look no further than the Nook Kitchen, conveniently and beautifully housed within the Hilton Garden Inn. Featuring two custom ovens straight from Italy and a wide variety of toppings served in white or red sauces, the Nook Kitchen has pizza down to a science.
With multiple valley locations and made-from-scratch cuisine, it's no wonder that Gordon Biersch Brewing Company has quickly become the success it is today. Their expansive selection of beers usually comes to mind, but Gordon Biersch also has a wide variety of flatbreads and pizzas to choose from which typically goes great with whatever is on tap. From the grilled artichoke and olive pizza to a chicken and bacon flatbread, there really is no wrong decision.
Head to Season's 52 for delicious and unique flatbreads including the blackened steak with blue cheese and the garlic pesto chicken with roasted red peppers. For a lighter meal, Season 52 allows customers to select a half flatbread with their choice of a signature side.
So starting in January, push your New Year's resolutions aside and Celebrate National Pizza Week with an all time favorite.
-Written by Danny Imes, digital marketing coordinator, Greater Phoenix Chamber of Commerce.