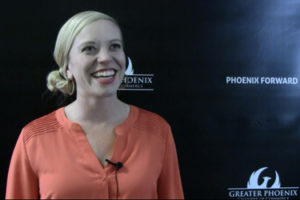 Few will argue the importance of mentorship and the value that can come from that type of interaction. When talking about mentoring, often times the focus is on what value the mentee comes away with rather the mentor.
January is National Mentoring Month and perhaps some of the most qualified individuals to speak on such a topic are past ATHENAs. Celebrating its 30th anniversary, the Greater Phoenix Chamber's ATHENA Awards have honored and highlighted women in the Valley who embody what it means to be a mentor and so much more.
ATHENA recipients, both past and present, share how mentoring is truly a parallel relationship and why the value they come away with is just as important.
"I think mentoring gives you a chance to reconnect with a fresh perspective and be inspired by the enthusiasm with others just starting in their field and dealing with new challenges. I think it's also good for us as leaders to re-examine how we are approaching things and see it through new eyes."
–Connie Phillips, 2009 public sector ATHENA Award recipient
"The value a mentor receives is retaining important human qualities and being open and in touch with what is happening to other people. It's often a good time to reflect with what has been successful in your life and what areas need work and figure out how you can turn that around as advice for someone else."
–Eileen Rogers, 2000 ATHENA Award recipient
Rachel Yanof was the 2010 young professional recipient and says a mentor is critical in order to be successful in any aspect of life. Yanof believes that a mentor is someone who will listen to ideas and continue to give support, but also understands the value she comes away with as a result of the relationship.
"I get to connect with somebody who has this bright, bold and shiny idea and I get to coach them through that. Also, I am able to reflect on what I am doing and build off their enthusiasm which means I might take on something new because of that interaction."
–Rachel Yanof, 2010 young professional ATHENA Award recipient
"In mentoring others I continue to learn and it allows me to remain fresh. I find that the exchange of information is the most valuable part of mentoring and I hope I exude that to my mentors."
–Melissa Sanderson, 2015 private sector ATHENA Award recipient
As the 2013 young professional recipient, Christy Moore continues to embody an ATHENA by mentoring a youth in the foster care system. She believes it is an important relationship for her and her husband to have.Supporting the child through his journey to adulthood is what inspires her to keep going.
"As a mentor I strive to be a better person so I can role model those behaviors. I gain so much from mentoring, such as gaining a new perspective and a deeper understanding of others' struggles and opportunities. Getting to build a relationship with someone special to our community is great."
–Christy Moore, 2013 young professional ATHENA Award recipient
-Written by Danny Imes, digital marketing coordinator, Great Phoenix Chamber of Commerce