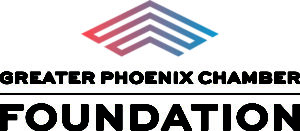 Greater Phoenix Chamber Foundation
The Greater Phoenix Chamber Foundation (the Foundation) leads the charitable and education objectives of the Greater Phoenix Chamber and promotes economic prosperity and quality of life for the Greater Phoenix region. The Foundation's charitable activities focus on community and workforce development, and improving health and prosperity for the region.
Greater Phoenix Chamber
The Greater Phoenix Chamber (GPC) is the leading business organization for the greater Phoenix region. Our mission is to promote regional prosperity, serving as a catalyst for economic vitality and strong communities. We accomplish this through our ability to convene and connect business leaders, elected officials and community leaders; cultivate thought leadership; advocate for pro-business policies; and communicate and promote the region's strengths. Workforce is one of three key pillars for the Chamber; the Foundation supports this work through employer-led workforce collaboratives, helping to develop a pipeline of talent for the greater Phoenix region.
Who are we looking for today?
We are interested in hiring people who have a passion for Phoenix and a desire to make the Greater Phoenix region a great place to live, work and play. GPCF is looking for a Workforce Development Manager to take the Foundation's workforce development to the next level. The ideal candidate can manage relationships with business leaders, community leaders, and Chamber staff, has communications and marketing experience and is able to manage multiple projects with ease.  The ideal candidate will bring a passion for working to improve lives, expand economic prosperity, and foster collective action and impact with industry-sector leadership and community and education partners while building a strong talent pipeline.
Primary Responsibilities
The Manager is responsible for overseeing the workforce development efforts of the Foundation, including the Workforce Steering Committee and five workforce collaboratives. This position will lead the development and implementation of a three-year strategic plan in collaboration with the VP of Economic Development. The Foundation is in growth mode with additional positions planned for the coming year which this position may oversee. This position has growth potential as the workforce development strategy continues to expand.
Position Objectives
Develop and implement a three-year strategic plan for workforce development.
Support the Workforce Steering Committee including agenda development, meeting preparation and regular communications.
Responsible for tracking departmental key performance indicators and preparing board reports.
Assist in the advancement of collaborative priorities, serving as an intermediary between employers, education and training providers, and workforce development agencies.
Engage with education and workforce development partners to better align curriculum and competencies to employer demands.
Support employers participating in the Foundation's workforce collaboratives, encouraging better engagement with the education community and increasing workplace learning opportunities.
Manage and maintain strong relationships with a broad set of stakeholders, including business leaders, government and public officials, and nonprofit and community leaders.
In the interim, support all workforce collaboratives, including meeting preparation and communications.
Serve as a spokesperson for workforce development, presenting at various stakeholder meetings and events.
Serve as a liaison to community partners.
Serve as a liaison to the marketing team for all workforce development communications and collateral, ensuring the Chamber brand and messaging are on point.
Represent the Chamber and the Foundation at workforce development conferences both locally and out of state.
Assist with fundraising for workforce development, including grant writing and corporate requests.
Candidate qualifications:
The GPCF is looking for candidates with the following knowledge, skills and abilities desirable for job success:
Must have excellent communications skills, both written and verbal, and the ability to establish professional relationships
Must possess analytical ability to solve problems, anticipate challenges and identify opportunities and solutions
Must be able to provide superior customer service to both internal and external customers at all levels of an organization
Detail oriented with ability to stay organized while handling multiple tasks. Able to work independently with minimal supervision
Highly motivated to learn, grow professionally and work in a team environment
Proficient in all MS Office products
Must maintain a neat and professional appearance
Minimum of 2 years, work experience in business (HR and recruiting), education (career advising) or workforce development
Minimum of 1 year, marketing and communications experience
Successful candidates will also be expected to bring the following personal attributes to the position:
Self-starter with the ability to sustain and move work forward with minimal direction and achieve goals under tight deadlines that satisfy multiple priorities
Innovative by continuously looking for ways to improve processes, always for the best use of resources
Takes a diplomatic approach to work and communications and an ability to easily establish credibility among a wide variety of stakeholders (i.e., business, nonprofit, academic, and policy/public sectors)
Possess the ability to exercise mature judgment, tact, and professionalism
Collaborates and builds bridges internally/externally; works with others to achieve common goals and furthermore possesses the ability to work with all levels of management and leadership both internally and externally
Executes with excellence by consistently delivering on promises to the highest standards; appreciates and demands quality
Application Information:
Qualified candidates should respond by sending a confidential cover letter, resume and salary requirements to hr@phoenixchamber.com.
NO PHONE CALLS PLEASE. GPC is an equal opportunity employer. No person will be discriminated against because of race, religion, sex, color, age, national origin, disability or any other legally protected classes. займ на карту
займ на карту займ от частного лица краснодарбыстрый займ на киви без паспортакак взять займ на карту займ на карту с плохой историейзайм денег на картуонлайн займ на карту сбербанка взять займ в екатеринбургезайм на 30 днейзайм с плохой кредитной историей самара