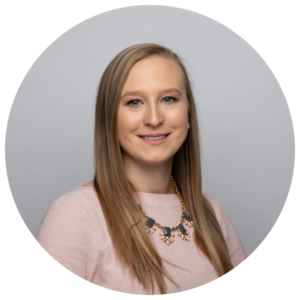 Valley Young Professionals is excited to announce Brittany Dugan, Global Cloud Programs Manager at Intel, as this year's Vice Chair.
Tell us about yourself and the journey that led up to your career today.
I was born and raised in Minnesota and moved to Arizona over nine years ago to get my master's degree at Arizona State University. Since graduating, I have worked in marketing at various companies and have been with Intel for the last 1.5 years. I have two rescue dogs and recently got engaged to my fiancé Colin! In my spare time, I love to travel and seek ways to get my adrenaline pumping. I love Taylor Swift and consider myself a huge Swiftie!
Why did you want to get involved with VYP?
Following the pandemic, I was looking for a way to get back to networking and connect with other young professionals. I attended my first event at St. Mary's Foodbank and loved how VYP was able to create an event that combined giving back to the community with an easy, natural way to network. I've been attending events ever since and have met so many amazing people, discovered some great local businesses, and been able to volunteer with some incredible non-profits that are changing the Valley!
What favorite activities, places, and restaurants would you recommend in Phoenix?
My favorite activity is hiking with my fiancé and two dogs. It's a great way to get outside, get some exercise, and take in Arizona's beautiful landscape! For food, my favorite grab-and-go option is Pokitrition (the best sushi burritos ever), and for restaurants, I love Casa Corazon and Palma. One of my favorite things about Arizona is the endless number of fun things to do. I love exploring all the fun new restaurants and activities around the Valley. I'm always checking TikTok and Instagram to see what new places have opened!
Why would you recommend getting involved with VYP and the Chamber to other young professionals in the Valley?
It's a great way to meet other young professionals and grow your personal and professional network. We have some unique and fun events that make it easy to meet new people, learn about various local businesses and topics affecting Arizona, and even potentially make new friends!
How has VYP impacted your involvement with non-profits?
Shortly after joining VYP, I attended an event for UMOM New Day Centers, where we all donated items to stuff stockings for families facing homelessness in the Valley. I met Stella O'Rourke at this event, and she shared more about UMOM's mission to end family homelessness by restoring hope and rebuilding lives. I immediately knew I wanted to get involved! I've continued volunteering with UMOM regularly and am so thankful that VYP helped me find this amazing organization. There are many non-profits in the valley, and we hope that by attending our give back events, you can find an organization you connect with as I did!
What is your biggest piece of advice for young professionals?
Put yourself out there and get comfortable with the uncomfortable! It's amazing what you will discover about yourself, the things you will do, and the people you'll meet.