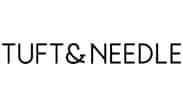 Tuft & Needle (T&N) is a Phoenix-based company that disrupted an industry and changed the way mattresses were designed and sold. Founded in 2012 by John-Thomas Marino, and Daehee Park, T&N is leading the revolution against unfair mattress markups, commission­-based sales models, and information asymmetry by creating an exceptional, honestly-priced product.
Determined to solve a problem in the mattress industry, T&N founders run off a business model with the customer in mind. By using feedback to constantly improve its products, T&N has the lowest published return rate in the industry – 95% of its customers love and keep their mattress.
When Tuft & Needle was founded in Phoenix instead of Silicon Valley, the founders saw many benefits to running a bootstrapped company in the Valley of the Sun, and has made an effort to share with others why they believe that Phoenix is a thriving business environment. The company is also creating job opportunities in order to retain top talent that would otherwise leave the state after graduation. On top of that, Tuft & Needle is helping many Valley residents wake up better with its suite of sleep products.
Simply put: Buying a mattress is typically a painful process full of gimmicks, markups and confusing information. Tuft & Needle provides clear and transparent information about its products and the industry overall, so customers can sleep well knowing that they're making an informed decision backed by a risk-free 100-Night Sleep Trial and no hassle warranty.
Tuft & Needle is proud of the trust and loyalty that the company has built by listening to its customers.
Are you ready for a better nights sleep? Check out what you've been missing >> tuftandneedle.com