The Greater Phoenix Chamber's chief mission is to grow the economy and create jobs. When our membership expressed a need to grow and expand our local economy, we developed an innovative approach to economic development in Greater Phoenix. Our economic development efforts began with Phoenix Forward >>, an initiative which was the vehicle the Chamber used to accomplish that mission from 2015 – 2017.
Phoenix Forward >> was a coordinated, strategic approach to economic development that brings the resources of our collaborative partnerships with the Arizona Commerce Authority, the City of Phoenix and Maricopa County to the front doors of businesses. The initiative strengthens the region's competitive edge, connected businesses to vital resources, gathered industry intelligence, influenced public policy and promoted the region as the economic hub of the southwestern United States.
Designed, developed and driven by the business community, Phoenix Forward >> supported local businesses in the targeted industry sectors listed below, speci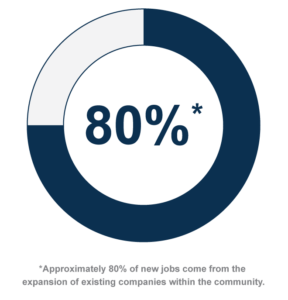 fically selected for their prospects for growth and expansion.
• Overview
• Bioscience
• Health Care
• Transportation & Logistics
Research shows that a staggering 80% of new jobs come from the expansion of existing companies. Phoenix Forward >> assisted those vital job creators in continuing to thrive, grow and succeed.
Leadership Councils
Phoenix Forward >> assisted local businesses in three four targeted industry sectors. The sectors – Advanced Business Services, Bioscience, Health Care, and Transportation & Logistics – were selected for their importance to the overall economic development of the region and their potential for sustained growth and expansion.
Each sector was spearheaded by a council featuring industry leaders who identified the industry's key needs and determine the appropriate courses of action in meeting those needs. Each industry-led council served as a catalyst for facilitating industry connections and collaborations that drive existing business growth and prosperity for the sector and the region.
HEALTH CARE LEADERSHIP COUNCIL
Fostered sector collaboration by brokering connections between health-related organizations and efforts in the region and building action-oriented teams to address specific priorities. The Council aligned with the Phoenix Health Care Sector Partnership, which shares the goal of improving health outcomes of Phoenix residents while spurring economic growth.
The Council worked to achieve its goals through creating a stronger talent pipeline, fostering innovation through care coordination and promoting the region as a healthy community, championing its healthy, active life style and quality of life.
Read the Greater Phoenix Health Care Industry Overview.
View the presentation from the August 2017 Phoenix Health Care Sector Partnership meeting at National Bank of Arizona.
Council Leadership Chair:
Linda S. Hunt, Senior Vice President of Operations & President/CEO Arizona, Dignity Health
Council Leadership Vice Chair:
Steve Narang, M.D., CEO Banner – University Medical Center Phoenix
BIOSCIENCE LEADERSHIP COUNCIL
Harnessing the region's unique strengths in personalized medicine, the council is developed a strategy to better connect research and talent assets in an effort to attract more capital and translate research into commercial products and services. The Council worked to foster the growth of early stage companies through strengthening business-to-business connectivity and engagement, improving the talent pipeline, improving commercialization and tech-transfer processes and increasing access to capital.
Council Leadership Co-Chairs:
Thomas J. Sadvary, Chief Executive Officer, HonorHealth
Robert Bowser, Ph.D. Chairman, Division of Neurobiology, Barrow Neurological Institute
TRANSPORTATION & LOGISTICS LEADERSHIP COUNCIL
Recognizing a range of regional geographic and infrastructure assets and growth opportunities for this sector, the council developed an overarching strategy to achieve its goals of strengthening the image of transportation and logistics in the Greater Phoenix region and strategically enhancing infrastructure.
Council Leadership Co-Chairs:
Mary E. Peters, President & CEO, Mary E. Peters Consulting Group LLC
Karrin K. Taylor, Founder & President, Arizona Strategies