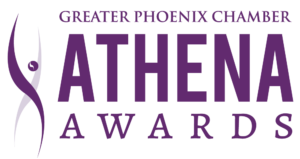 The Greater Phoenix Chamber's ATHENA Awards program recognizes and celebrates the achievements of businesswomen across the Greater Phoenix region. The ATHENA Award, an internationally prized honor, recognizes women who demonstrate excellence in professional leadership, community service, and mentorship of future leaders. Each year, the Greater Phoenix Chamber's ATHENA Awards highlight three women at the top of their field, who demonstrate inspiring leadership within their industry, mentor women throughout their career, and act as dedicated community servants.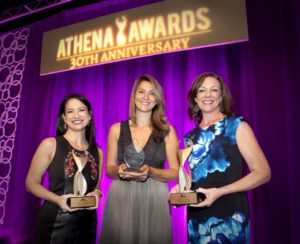 The Greater Phoenix Chamber proudly hosts one of the most established and highly-regarded ATHENA Awards programs in the country. Over the past 30 years, 50 accomplished and compassionate Valley businesswomen have earned the title of ATHENA.
Who's leading in your community? Nominate her today!
Why nominate?
Elevate female leadership
Recognize your mentor, colleague, or leader
Promote women supporting women
Nominate today using the nomination form below:
Download the Public/Private sector nomination form here.
Download the Young Professional nomination form here.
Time requirements:
Friday, June 22, 2018 – Nomination forms due by 5 p.m. – No extensions will be granted.
Friday, July 13, 2018 – Application packets due by 5 p.m. – No extensions will be granted. 
Thursday, August 9, 2018  – ATHENA Nominee Reception
Wednesday, August 22, 2018 – ATHENA Selection Committee panel interview, video interview, and photos (finalists only)
Private sector: 8 – 11 a.m.
Public Sector: 11:30 a.m. – 2:30 p.m.
Young Professional: 2:45 – 5 p.m.
Wednesday, September 19 OR Thursday, September 20 – On-site video shoots (Private and Public sector finalists only)
Three-hour video shoot at your business location
Wednesday, October 24, 2018 – ATHENA Awards Luncheon
Requirements for eligibility:
Must be able to meet the above time commitments.
Finalists must support the ATHENA Awards event as a table host (minimum of one table).
Individuals currently serving in an elected position are not eligible to participate.
Nominations forms are due Friday, June 22, 2018 by 5 p.m.! No extensions will be granted.
Completed your nomination? Talk about it on Twitter, Facebook or Instagram using #WomenMeanBusiness! Everyone who shares their nominee on social media will be entered to win an exciting prize from the Chamber.