The Greater Phoenix Chamber and our partners – the Arizona Commerce Authority, City of Phoenix and Maricopa County – gather data from our business retention & expansion visits which is aggregated and analyzed to provide a sense of the business climate and needs of the business community.  Read the latest quarterly report.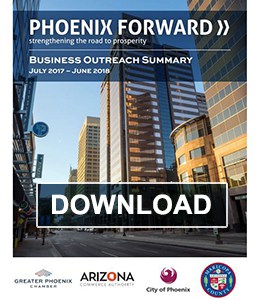 July 2017 – June 2018 Business Outreach Report
To request a business visit and consultation from the Chamber's economic development professionals, contact Senior Economic Development Manager Greg Tilque at 602.495.6475 or gtilque@phoenixchamber.com.