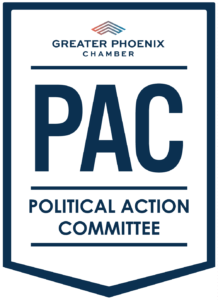 For nearly 40 years, the Greater Phoenix Chamber's Political Action Committee (PAC) has identified and supported pro-business candidates for state and local offices, regardless of political affiliation.
WHY IS IT IMPORTANT? Government leaders at the state, county, and local levels make decisions impacting businesses every day. From health care to business regulations, these decisions influence the economic vitality of the community. It is vital for companies to support candidates that understand the impact of their decisions on Greater Phoenix businesses and families. Through the PAC, the Chamber advocates for businesses by supporting pro-business candidates that align with the Chamber's guiding principles.
WHAT DOES THE CHAMBER DO? The Chamber and the PAC Board of Directors solicit information from political candidates and conduct candidate interviews. Through this process, the Chamber's PAC Board determines which candidates align with the Chamber's positions and guiding principles. Based on these two core pillars, the PAC Board determines which candidates receive the Chamber's endorsement during their election.
HOW CAN I HELP? For a minimum contribution of $10, individuals can support the Chamber's PAC and help elect pro-business leaders to office.
Note: Chamber dues do not go towards the election of political candidates.