BASIS.ed
Equipping students for success
BASIS Charter Schools offer students something no other American public school does: An education that prepares them according to the highest, most rigorous international standards. Basis schools are consistently ranked among the best schools in the United States and the world.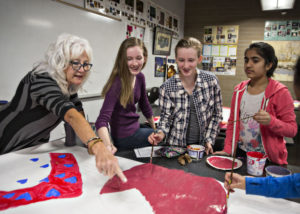 There are 21 tuition-free BASIS.ed managed public Charter Schools across Arizona, Texas, and Washington, D.C. Founded in 1998, BASIS Tucson Primary is the flagship BASIS.ed-managed charter school and is where all the curriculum that lays the foundation for BASIS.ed schools was first developed.
The BASIS.ed Diploma prepares students with the skills required to successfully participate in the world we live in today. Students who earn this diploma grow to love learning and have a desire to dive deeper. Above all they have the best possible educational foundation to be independent and resourceful problem solvers and to face future challenges.
BASIS.ed does not write the curriculum, but instead manages it. This means it will never provide a teacher with a fully written curriculum for a course, but will provide structured guidance in the form of common standards. This allows for creativity in the classroom and for teachers to develop innovative ways to meet the standards.
We believe:
Children can achieve more than we have commonly been told. With hard work, dedication and the support of teachers and parents, 3rd graders can think critically, 6th graders can learn Physics, and High School students can read Critical Theory and Philosophy.
Instructional time is precious. Every minute of every class should be filled.
Mastering the basics is the precondition for going beyond them. Students learn to listen for the music of Shakespeare's iambic pentameter and to decipher the crucial details in an historical primary source, but they must also be able to parse the grammar of a sentence and craft concise and persuasive prose.
Homework, as long as it is an extension of what is being learned in the classroom, is valuable. Practice helps students achieve mastery.
High-stakes, summative tests that assess content mastery and learning skills are foundational for learning.
The evaluation of teacher performance must be based both on classroom instruction and on student learning results on high-stakes assessments.
To further ensure teacher and student success, BASIS.ed provides a network of mentor teachers it calls "Subject Advisors" who are positioned throughout the schools to assist and support teachers who are new to BASIS.ed.
http://www.basisschools.org/