Build your network, connect with peers and hear from inspiring businesswomen in the community. The Chamber is bringing business women together by hosting a dynamic female leader in the community each month to share insights into leadership, career growth, community involvement and women's issues. For more information on PWA, please contact Ashley Caronna at 602.495.2194 or acaronna@phoenixchamber.com.
View the latest edition of the Women in Focus newsletter. 
I went hoping for networking opportunities – I made several connections – and the speaker and topic were fantastic. It was a good balance of appealing to the "girls club" but also very directly relevant to important business and community issues.  – Marianne Swallie, Lewis Roca Rothgerber Christie
Upcoming
Professional Women's Alliance featuring Letitia Frye
Date: Tuesday, May 7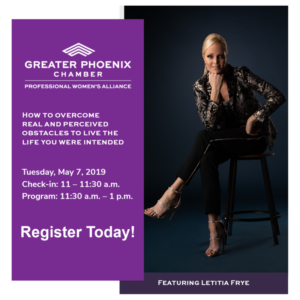 Time: 11 a.m. – 1 p.m.
Check-in & Lunch: 11 – 11:30 a.m.
Program: 11:30 a.m. – 1 p.m.
Join us to hear from Letitia Frye, America's foremost "auctiontainer,"as she shares how you can overcome obstacles to become your best self and live the life you were intended.
A gifted fast-talker, Letitia Frye broke barriers and set new standards in her work as a professional auctioneer. Having fundraised more than $400 million dollars for charities in North America, Frye is a top-performer in her industry.
After founding her company and carving a niche for herself as an "auctiontainer," she set out to build the framework for other women interested in auctioneering.  She worked to increase female representation in her industry, and today women regularly make up half of the auctioneering classes. As a dedicated volunteer in her community and trailblazer in her industry, Frye sets the stage for others to succeed.
Don't miss this opportunity to hear from an inspiring leader, and leverage your skills to grow your career!
Advance registration is required for lunch. Email any dietary restrictions such as vegetarian, vegan or gluten free to acaronna@phoenixchamber.com one week prior to the event. Requests made after that time cannot be guaranteed.
Registration for this event will close Thursday, May 2, 2019. Payments must be made in advance and no refunds will be given for cancellations made within 72 hours of the event.
Questions? Please contact Ashley Caronna at 602.495.2194 or acaronna@phoenixchamber.com