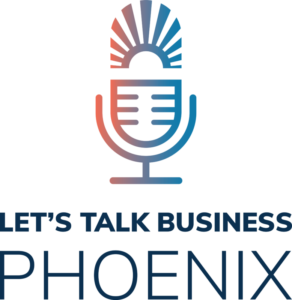 New podcast episodes will be added to our website, Apple Podcast, and Spotify on the 2nd and 4th Wednesday of each month. Each episode addresses important issues and subjects affecting businesses, our community, and Arizona today. Through relevant, timely topics, this podcast serves as the business community's voice with the mission of championing business growth, identifying problems that restrict economic development, and convening community leaders to move Phoenix forward.
Governor Hobbs
In this special bonus episode, hear from Governor Katie Hobbs as we kick off National Small Business Week and hear her priorities for Arizona following her first 100 days in office. How do we get past political polarization? What does "building an Arizona for everyone" mean to the Governor? Why is extending the Prop 400 transportation tax and investing in essential infrastructure crucial for our region and state? Tune in to hear those answers and more!
Erik Osland, evolvedMD
In this episode, the Chamber honors Mental Health Awareness Month by featuring Erik Osland, Co-Founder of evolvedMD. According to Mental Health America, Arizona ranks 49th in the nation for higher prevalence of mental illness and lower rates of access to care. Hear how evolvedMD is tackling this harrowing statistic head-on by being a radically different "disruptor" in the behavioral health industry. Osland makes the business case for prioritizing mental health and explains how business leaders can build a culture based on psychological safety for their employees.
Dr. José Luis Cruz Rivera
In this episode, hear from Northern Arizona University's President José Luis Cruz Rivera. After two years as the 17th President of NAU, Dr. Cruz describes the University's vision as the "leading engine of opportunity, the vehicle of upward mobility, and driver of social impact" and the steps taken to fulfill it. In addition, hear about NAU's focus on allied healthcare education to face Arizona's nursing shortage and the first state University to launch a Spanish-language website.
Leslie Meyers – SRP Water Update
In this episode, hear from Leslie Meyers, Chief Water Executive and Associate General Manager of Water Resources, at Salt River Project. The US Bureau of Reclamation recently declared a Tier 2a shortage for the Colorado River, with changes taking place in January of 2023. How will this directly impact Phoenix businesses? What can businesses do to support water conservation efforts? Listen to hear these answers and more regarding Arizona's water future.
Matt Clyde
In this episode, hear from Matt Clyde, Founder, President & Chief Strategist of Ideas Collide. During this time of economic fluctuation, high inflation, and a possible recession, we know no matter what happens in the year ahead, there will be some challenges. How do you consult and counsel brands, marketers, and companies to prepare for the many unknowns? How do you continue to invest and evolve your brand? How does culture tie into internal and external work and branding practices for clients? Hear those answers and more in this episode!
Christina Noble
In this episode, hear from Christina Noble, Chief Growth Officer and Immediate Past Chair  of the Greater Phoenix Chamber. More than ever, employers are investing in their employee benefits beyond standard insurance plans.  Christina discusses the challenges businesses face in the healthcare industry and how workplace wellness is key to attracting and keeping talent healthy and at work. Learn how businesses can be a part of the solution when seeking better, more affordable employee care access and Sonora Quest's goals for healthcare in the Valley.
Dr. Steven Gonzales
In this episode, hear from Dr. Steven Gonzales, Chancellor of the Maricopa County Community College. Dr. Gonzales was appointed Chancellor in September 2022. Maricopa County Community College partnered with the Greater Phoenix Chamber Foundation's ElevateEdAZ program to strengthen Career and Technical Education (CTE) pathways for students, ultimately leading to high-wage, high-demand careers.
Dr. Michael Crow
Alongside the Chamber's Valley Voices: The State of Higher Education on February 22nd, hear from Arizona State University President Dr. Michael Crow. In this episode, hear about ASU's adoption of the three-pillar structure and what academic enterprise, knowledge enterprise, and learning enterprise have to offer the business community. You'll also receive an update on ASU's contributions to the New Economy Initiative and the CHIPS and Science Act.
David Rousseau
Ahead of Super Bowl LVII hear from Arizona Super Bowl Host Committee Chairman David Rousseau. Hear about the 4 pillars of focus the committee has designated for the big game: Education, DEI & Social Justice, Environment& Sustainability, and Health & Wellness. How will the game influence economic growth and prosperity for Phoenix? How can local businesses capitalize on this monumental occasion? Hear the answers and more in this episode!
Susan Anable
Hear from Susan Anable, Vice President of Public Affairs South West Region at Cox Communications and Public Affairs Chairwoman for the Greater Phoenix Chamber ahead of the First Regular Session of Arizona's 56th Legislature. What key legislation is the Chamber's Public Affair Committees discussing and working on this upcoming session? What are the main legislative challenges in 2023, and what are the solutions? How are the recent election results affecting the Phoenix business community? Tune in to hear the answer to these questions and more!
Ray Schey
In this episode, hear from Ray Schey, Market President & Publisher at Phoenix Business Journal on economic development efforts in the Valley. With the ever-changing local and national economy, how is the Phoenix Business Journal responding to the needs of the Valley's business community? Economy-wise, compared to the rest of the United States, how is Phoenix positioned differently? Ray answers those questions in more!
Frank Reid
Hear from Frank Reid, Greater Phoenix Chamber's former Board Member, and DEI Committee Chair, on implementing DEI practices in the workplace. As one of the founders of the Chamber's DEI Program & Toolkit, Frank breaks down the program's evolution and goals for the future. What are some of the most common misconceptions regarding implementing more DEI practices in the workplace? How can businesses combat resistance to, or even just a misunderstanding of this work? Listen now to learn more and maximize your business's DEI efforts!
Erin Mettille
For the first episode of 2023, hear from Erin Mettille, Public & Social Impact Leader at Slalom, and Greater Phoenix Chamber's Chairwoman. Erin discusses leadership, goals, and maximizing Chamber memberships in the new year.
Jim Rounds
In the final episode of 2022, hear from Jim Rounds, President at Rounds Consulting Group, Inc., on economic predictions heading into the new year. In Metro Phoenix, inflation rates are among the highest in the nation, particularly for gas, rent, and home prices. Why are these areas hit hardest? When will we see these rates fall? According to our Arizona Business Index, due to inflation, consumer confidence decreased in the first half of 2022. How does this decrease impact our economy? What will it take to see an increase? Jim answers these questions and more!
T.J. Mitchell
In this episode, hear from T.J. Mitchell, Chair of the Valley Young Professionals (VYP)  and Land Use & Zoning Attorney at Quarles & Brady LLP. Get an update on goals and upcoming VYP events, along with a discussion on key topics affecting young professionals in Arizona today.
Dr. Andria Fourlis
In Episode 8, Dr. Andria Fourlis, Superintendent of Mesa Public Schools,  discusses the district's partnership and impact of ElevateEdAZ, which has expanded into three high schools this year. Mesa Public Schools is working with ElevateEdAZ to strengthen Career and Technical Education (CTE) pathways toward high-wage, high-demand careers for students.
Jennifer Mellor
In Episode 7, hear a year in review of the Greater Phoenix Chamber Foundation from Jennifer Mellor, Chief Innovative Officer, ahead of Giving Tuesday. The Foundation convenes and catalyzes business, education, and community to enhance college and career readiness, develop a stronger workforce, and build healthier communities throughout Arizona. The Foundation is proud of the work ElevateEdAZ, Build Your Future Arizona, and six employer-led workforce collaboratives have accomplished this year.
Brittany Holmes
In Episode 6, hear from Brittany Holmes, Vice President of ElevateEdAZ, on this year's growth of ElevateEdAZ and how the program is improving education and talent development in Phoenix.
Jessica Pierce
In Episode 5, Jessica Pierce, CEO & Founder of Career Connectors, discusses partnering with the Greater Phoenix Chamber Foundation to create AZ Careers Now. Hear how AZ Careers Now supports businesses and job seekers in Maricopa County with various hiring events.
Mike Huckins
In this episode, hear the latest from the Chamber's Vice President of Public Affairs, Mike Huckins, ahead of the 2022 General Election. What are the key Federal, State, and City races you should keep an eye on? What does the Greater Phoenix Chamber's PAC look for when endorsing candidates, and how does the process work? How is the overall political environment currently in Arizona? Find out more from Mike in this week's episode!
Dan Puente
This episode features Dan Puente, BYFAZ Steering Committee Chair, and President at D.P Electric, Inc., ahead of the 2022 Build Your Future Arizona Investor Update Event on October 18th. Hear the latest on the high demand for the housing industry, industry talent recruitment, the latest labor projections, and how BYFAZ is creating positive industry solutions.
Molly Stockley
In this episode, we feature Molly Stockley, 2021 ATHENA Awards recipient, and Regional Vice President of Marketing at Cancer Treatment Centers of America (CTCA), ahead of our 2022 ATHENA Awards Luncheon on October 13th. Hear what it takes to be an ATHENA, alongside professional advice for businesswomen in the Valley!
Mayor Kate Gallego
In this episode, hear the latest from Phoenix Mayor Kate Gallego with updates on Super Bowl 2023, GO Bond, police funding, Rio Reimagined, and TSMC progress.
Sign up to receive new episode updates!
Contact
If you would like information about membership, contact the Greater Phoenix Chamber at info@phoenixchamber.com or call 602.495.2195.