Who we are
The Valley Young Professionals (VYP), a program of the Greater Phoenix Chamber (Chamber), is for up-and-coming young professionals in the Valley ages 25-39. The VYP program provides experiences for its members to build lasting relationships, engage in professional development opportunities and become change-makers in the community. The program is designed to create innovative leaders for tomorrow by educating them on issues that affect business leaders of today. The monthly events connect leading entrepreneurs and business professionals with a valuable network to help them learn, grow, and develop professionally. As a member of the VYP network, you have access to networking opportunities, educational programs, behind-the-scenes tours, and volunteer projects.
Connect with the Valley Young Professionals on LinkedIn and Facebook.
Want to receive our monthly VYP newsletter? Click here.
Upcoming: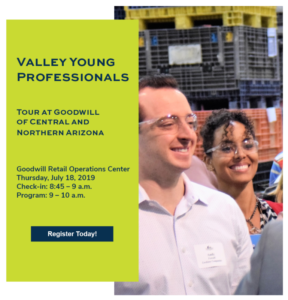 Join the Valley Young Professionals for a behind-the-scenes tour of Goodwill of Central and Northern Arizona's Retail Operations Center!
During the tour, VYP attendees will discover what happens to the more than 1.5 million donations that are given annually to Goodwill. Learn how those donations helped 24,000 people find jobs in Arizona and 63,000 people receive important workplace skills last year through the Goodwill Career Centers.
Want to contribute? Goodwill of Central and Northern Arizona will also be accepting donations prior to the tour! Click here to view Goodwill's accepted donation items.
Register today >
The Valley Young Professionals (VYP) provides experiences for its members to build lasting relationships, engage in professional development opportunities, and become change-makers in the community.
Board of Directors
The Chamber VYP Board of Directors creates a program to retain and attract young professionals to the Greater Phoenix area. The Board is responsible for overseeing the programming and direction of VYP. The board identifies content, speakers, venues, and community partnerships for VYP and promotes these events and the Chamber among their networks.
Meet our 2018-2019 Board of Directors
​
Rita Rabbani
Chair
Clear Channel
Regional Marketing Leader

Fun Fact: My favorite work project so far is ideating, coordinating and executing KJ Dunk Night when I worked for the Phoenix Suns. It was really fulfilling to overhear fans talking in the concourse about how cool it was to hear Kevin Johnson discuss the dunk in the halftime FAQ with Al McCoy!

Bethany Bennick
Manager, Investor Relations
Greater Phoenix Economic Council

Fun Fact: I have called Switzerland and France home. I fenced competitively and have a toothless cat named Atlas.

Eric Bottolfsen
VP, Brokerage Sales – MassMutual Greater Phoenix

Fun Fact: In the last 12 months I have hiked over 200 miles, spanning multiple states and countries, but the majority of which were exploring in our backyard of Arizona.

Margaret Craig
Associate Account Director – Ideas Collide

Fun Fact: Several years ago I set a goal to learn how to make pie crust from scratch. After lots of practice, I like to consider myself an expert pie baker and I make an exceptional apple pie.

Jill Foley
Managing Partner – Four Leaf Financial & Accounting, PLLC

Fun Fact: I am a fourth generation Cubs fan and aspire to be a young snowbird

Andy Forsell
Production Resource Specialist –Lockton Companies

Fun Fact: 4 years ago I had the ill-advised notion to take up amateur live bull-riding – even though I'd never even considered it before. I spent several months doing it twice a week before a concussion and several broken bones convinced me to stick to my day job, which, ironically, is in risk management.

Shon Mack
Customer Service Analyst –  Salt River Project

Fun Fact: My stage name is Amavi. I have been busting moves since I was a little kid.  I've performed in College Stadiums and competitions all over the US. Hip-Hop, contemporary and House are my all-time favorite styles of dance.

TJ. Mitchell
Associate –  Polsinelli

Fun Fact: I have hiked from the north rim of the Grand Canyon to the south rim in one day.

Justin O'Connell
VincentBenjamin
Business Development Manager

Fun Fact: Besides being a huge fantasy football nerd, I also love Harry Potter and the Lord of the Rings.  I actually had a wizard collection when I was younger…you will have to ask about it.

Stella O'Rourke
Corporate Development Manager –  UMOM New Day Centers

Fun Fact: For the first 9 months of my life I lived in Mother Teresa's orphanage in India.

Kimberly Roland
Director of Entrepreneur –  Better Business Bureau

Fun Fact: I have attended Suns games in America West Arena, US Airways Center, and Talking Stick Resort Arena and remember when they played at Veteran's Memorial Coliseum.

Ashley LaRae Sampson
Co-Founder & Consultant                       StylePHX

Fun Fact: My grandpa makes me help him bail his hay and round up his cattle on his 60-acre ranch when I visit.

Zach Schira
Maricopa County
Deputy Chief of Staff

Fun Fact: I took American Sign Language as a foreign language in undergrad.

Lindsey Thompson
Shamrock Foods Dairy
Brand Manager

Fun Fact: Beagle lover and aspiring harmonicist
Join Now
Interested in becoming a member of Valley Young Professionals?
If your employer is a member, opt into the monthly VYP newsletter here to receive news and updates on events.
If your employer is not a Chamber member, you can become a member of the VYP program for $100 per year. Complete the attached membership application and send to Ashley Caronna at acaronna@phoenixchamber.com or fax to 602.495.6479.
Not sure if your employer is a member? Check here.
---