Business bio
The Art Institute of Phoenix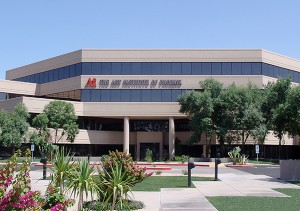 is a vibrant creative community in north central Phoenix preparing students for success with applied arts education in several disciplines including media arts, design, fashion and culinary.
The campus primarily offers Bachelor's and Associate's degree programs while also offering a few diploma programs. The school, which just celebrated its 20th anniversary, is recognized as Military Friendly® and is approved to train veterans and other eligible beneficiaries of Department of Veterans Affairs educational benefits.
The Art Institute of Phoenix excels at providing a collaborative environment that creates a rich and dynamic experience that pushes the boundaries of creativity and fosters the ability of students to communicate and work as part of a team. It is common to see aspiring culinary artists work with future graphic designers on projects like restaurant logos; and photography students partnering with design students on fashion shoots.
"Our students learn that every organization and industry uses art in some form within their business," said Chad Williams, campus president of the Art Institute of Phoenix. "This is not simply about the arts, but more about how every business has needs for practical, creative solutions."
The school takes great pride in contributing to the work force readiness of the greater Phoenix region. In fact, the institution has produced more than 4,600 graduates during the past 20 years. The facility also serves the community as an educational destination, attracting students from all over Arizona, the United States and the world.
Art Institute of Phoenix helps students balance college work and personal life, which can be a struggle. Effectively striking this balance can be the difference maker for many students.
One unique aspect of the campus is that students, faculty, alumni and visitors are surrounded by students' art work, which is displayed all over campus as an inspiration and reflection of campus culture.
The school is most proud of its creative, collaborative community that supports student success, faculty and staff engagement and development. It works with creative individuals to complete their educational credentials so they can transition into productive, entry-level careers where their passion and creative skills can aid them in making their own unique stamp on the world.
Get Connected
The Art Institute of Phoenix
www.artinstitutes.edu/phoenix