Reversing the progression of chronic kidney disease
A new program, a new name, a new location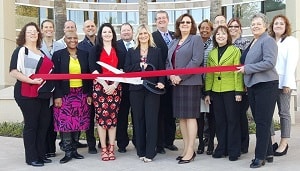 Premier renal disease consulting firm Renalogic (formerly Dialysis Cost Containment) is a leader in outcome improvement of chronic kidney disease and a comprehensive provider of data-driven, chronic kidney disease (CKD) care and cost management programs.
Far too often, Renalogic sees clients' members progress to end-stage renal disease (ESRD), the last stage of CKD in which the kidneys are functioning below 10 percent of their normal function. Taking matters into their own hands, Renalogic envisioned an opportunity to prevent catastrophic costs and intervening before chronic kidney disease progresses further.
Setting the company apart from its competitors, Renalogic is the only company that provides an end-to-end solution for identifying those at risk for chronic kidney disease and working with individual members to arrest the progression of chronic kidney disease.
Renalogic's uniquely targeted programs consistently result in improved patient outcomes while delivering maximum savings. Renalogic begins with data analytics to risk-stratify a plan's members at risk of chronic kidney disease. Once identified, Renalogic offers a customized care management program for each individual member's health and education needs with a focus on improving renal health.
If some client's members do progress to ESRD, Renalogic's dialysis cost-containment services can provide customized cost-containment options specific to each person's situation, reducing billed charges, often up to 85 percent.
"It's not enough to contain the cost of dialysis," said Shelley Grace, Renalogic's executive vice president of sales and market development. "Instead, we work with self-insured organizations to help them understand the complex issues surrounding chronic kidney disease, identify members at risk and intervene at the earliest stages of kidney failure."
Relatively new to the Valley, Renalogic relocated its headquarters from Sandpoint, Idaho, to Arizona in May 2015. But Renalogic is already making a huge impact in helping the business community and the Valley.
"We are partnering with other businesses in the nonprofit, government and for-profit sectors and striving to find opportunities to further the studies and understanding of chronic kidney disease, as well as eradicate the progression of the disease," added Sally Reppucci, Renalogic's executive vice president of operations and technology. "We are seeking to engage with the local community and be a part of the growing voice of Arizona's healthcare industry."