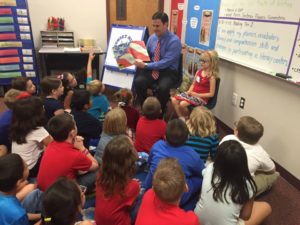 Feb. 2, 2017
Dear Chairman Shooter, Chairwoman Lesko, and Members of the House and Senate Appropriations Committees:
As some of this state's most engaged business and community organizations, we jointly write to express our support of Governor Ducey's executive budget proposal.
After eight years of difficult decisions and post-recession budget adjustments, the Fiscal Year 2017-2018 executive budget reflects a comprehensive blueprint for investment in an area of critical public impact— education. Not only does the proposed budget prioritize new resources for education, it strategically directs dollars to areas where they can have the greatest and most immediate impact—namely early literacy, teacher pay, expanding access to excellent public schools, and support for university infrastructure likely to attract additional investment and research dollars.
We all recognize that K-12 and Achieve60AZ will require fairly consistent investments by the citizens of this state. However, we also recognize that our students, taxpayers and industries deserve to see positive academic outcomes, and work-ready graduates in return.
This budget makes a meaningful move in that direction and sets us up for fruitful conversations going forward. The budget plan on the table represents an excellent framework for how new resources and high expectations can work together in thinking about an updated education investment strategy. We support its passage.
Thank you for your commitment to responsibly manage our state resources and allocate them in ways that can do the most good for students. We look forward to serving as a resource for you this legislative session. Please do not hesitate to reach out should our organizations be able to provide any additional information on our support for the proposed budget and our shared vision for Arizona's future.
Sincerely,
Ambos Nogales Hispanic Chamber of Commerce
Arizona Chamber of Commerce and Industry
Buckeye Valley Chamber of Commerce
Chandler Chamber of Commerce
Douglas Hispanic Chamber of Commerce
Greater Flagstaff Chamber of Commerce
Greater Oro Valley Chamber of Commerce
Greater Phoenix Chamber of Commerce
Greater Phoenix Economic Council
Green Valley Sahuarita Chamber of Commerce
Marana Chamber of Commerce
Mesa Chamber of Commerce
Nogales-Santa Cruz County Chamber of Commerce
Prescott Valley Chamber of Commerce
Rim Country Regional Chamber of Commerce
Sierra Vista Hispanic Chamber of Commerce
Tucson Hispanic Chamber of Commerce
Wickenburg Chamber of Commerce