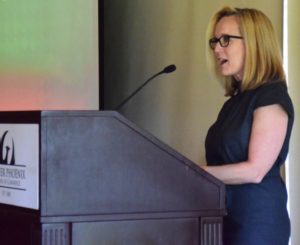 Regardless of where you are in your professional life, there are moments in a career when well-earned successes feel undeserved. This common phenomenon is known as "impostor syndrome."
Gay Meyer, assistant vice president of HR operations at USAA, is all too familiar with impostor syndrome and has worked tirelessly to overcome it.
"First, recognize that you aren't alone," Meyer said. "Seventy percent of professionals suffer from impostor syndrome."
During May's Professional Women's Alliance luncheon, Meyer offered insight into how professionals can overcome impostor syndrome and continue to see success.
Overcoming impostor syndrome is an ongoing challenge.
Meyer suggests professionals of all levels focus on their strengths and celebrate milestones and achievements, regardless of size. This helps professionals recognize the great work they do and minimize the negative effects of setbacks. She suggests reframing setbacks as opportunities and visualizing successes.
"I spent a lot of time worrying about possible failures," Meyer said. "Then I started to visualize my success, that's when I saw better results."
Sharing difficulties with a trusted mentor, friend or partner can help identify causes and subsequently help professionals rise above challenges.
Creating a fan list or group of people who support, admire and keep you accountable helps professionals remember that they are not alone on their journeys to success.
"When it stopped being about me I started taking risks and taking opportunities," Meyer said. "It wasn't just for me anymore, it was for them."
Servant leadership makes all the difference when trying to beat impostor syndrome.
The next Professional Women's Alliance luncheon will be on Tuesday, June 13, featuring the 2016 ATHENA Award recipients, Catherine Alonzo, Rebecca Clyde and Dr. Maria Harper-Marinick. The accomplished trio will share experiences and knowledge on the three pillars of being an ATHENA – leadership, mentorship and community service. Register today!
-Written by Alexie Chavez, marketing coordinator for the Greater Phoenix Chamber of Commerce.