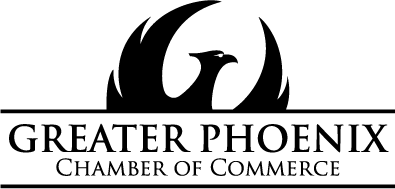 MEDIA CONTACT:
Josh Coddington
C: 480.415-4644 | O: 602.495.6481
jcoddington@phoenixchamber.com
FOR IMMEDIATE RELEASE:
May 25, 2017
PHOENIX – Phoenix has overtaken Philadelphia as the fifth largest U.S. city according to population estimates released today by the United States Census Bureau. Phoenix, with 1.6 million people, also had the largest numeric population increase of any city, adding more than 32,000 – about 88 people per day – between 2015 and 2016.
"This great news shows the power of collaborative efforts between the business and education communities and political leaders to create an attractive place for families to thrive and companies to grow," said Todd Sanders, president and CEO of the Greater Phoenix Chamber of Commerce. "Considering also that Maricopa County was just named the nation's fastest growing county, this highlights the absolute necessity for us to continue our multi-faceted efforts to train the workforce, help businesses expand and grow the economy."
The Chamber grows the economy through its collaborative Phoenix Forward initiative in partnership with the Arizona Commerce Authority, city of Phoenix and Maricopa County. The initiative strengthens the region's competitive edge, connects businesses to vital resources, gathers industry intelligence, influences public policy and promotes the region as an economic hub. The Greater Phoenix Chamber Foundation's five industry-specific workforce collaboratives serve to connect business leaders and education providers to better align workforce needs.
Jennifer Mellor, vice president of economic development for the Greater Phoenix Chamber of Commerce, says Phoenix's population isn't just growing, it is also diverse and young with an average age of 33.
"Phoenix is a great place to be new, where all types of people can get involved," Mellor said. "People choose where to live based on community culture, and Phoenix offers something for everyone including several recreation options, major sports teams, robust arts districts and a healthy, vibrant community."
Mellor adds that population growth and the subsequent increase in workforce helps expand Arizona's economy.
"Phoenix's population growth has led to major corporate expansions in Phoenix and throughout Maricopa County as companies follow availability of qualified talent. These expansions diversify our economy," Mellor said. "The growth in IT, health care, advanced manufacturing and entrepreneurship are putting Phoenix's innovation economy on the map."
###
About the Greater Phoenix Chamber of Commerce
Representing 2,400 businesses across the Greater Phoenix region, the Greater Phoenix Chamber of Commerce promotes regional prosperity by serving as a catalyst for economic vitality and strong communities. The Chamber pursues this mission by collaborating with business, political and community leaders to grow the regional talent pool, create a regional approach to economic development and drive a pro-Arizona agenda.
Follow online:
@phxchamber
facebook.com/phxchamber
www.phoenixchamber.com/LinkedIn
www.phoenixchamber.com/YouTube
Learn more:
www.phoenixchamber.com
info@phoenixchamber.com
602.495.2195 кредит