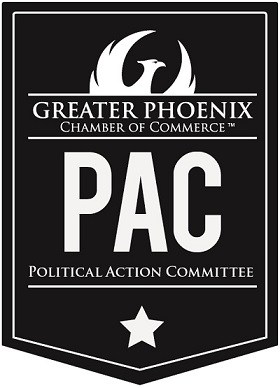 MEDIA CONTACT:
Josh Coddington
C: 480.415-4644 | O: 602.495.6481
jcoddington@phoenixchamber.com
FOR IMMEDIATE RELEASE:
June 19, 2017
PHOENIX – The Greater Phoenix Chamber of Commerce Political Action Committee (PAC) is endorsing Phoenix City Councilman Jim Waring for District 2 and Phoenix City Councilman Sal DiCiccio in District 6 for the upcoming August election.
GPCC PAC has supported candidates in local and state races for more than three decades who distinguish themselves as knowledgeable and supportive of issues affecting the success of Greater Phoenix-area businesses. Endorsement by the GPCC PAC Board requires a supermajority vote of its membership to ensure consensus candidates receive the Chamber's support.
"Both Sal and Jim are candidates who understand the importance of maintaining a pro-business environment and who are willing to stand with the Chamber to best advance policies that will continue to create new jobs and long-term economic stability, positioning Phoenix at the forefront of future economic development efforts," said PAC Board Chairman John W. Moody.
"The Chamber would like to thank councilmen DiCiccio and Waring for their support of business community and their willingness to speak out against policies that would have a negative effect on Phoenix's job creators. We encourage all registered voters to vote in the upcoming election and get to know the candidates for office," said Greater Phoenix Chamber of Commerce Vice President of Public Affairs Mike Huckins. "Making sure the voice of business is heard and supporting pro-business candidates is core principle of the Chamber and we need the help of voters to accomplish this critical task."
Early voting for the Aug. 29 election, during which voters will choose their representation for Phoenix City Council districts 2, 4, 6 and 8, begins Aug. 2. Voters can request early ballots by contacting the City Clerk Department at (602) 261-8683 no later than Aug. 18. Voted-early ballots may be returned by mail, delivered to the City Clerk Department, to any early voting site, or to any polling place on Election Day. To be counted, voted-early ballots must be received by an election official no later than 7 p.m. on Election Day, Aug. 29.
The GPCC PAC was established in 1978 to help pro-business candidates get elected to state, county and local offices and ultimately improve the overall business climate in Greater Phoenix. The Chamber first became a Mega PAC in 2003—the first Chamber in Arizona to achieve this elite distinction which allows the PAC to drastically increase its support of pro-business candidates.
###
About the Greater Phoenix Chamber of Commerce
Representing 2,400 businesses across the Greater Phoenix region, the Greater Phoenix Chamber of Commerce promotes regional prosperity by serving as a catalyst for economic vitality and strong communities. The Chamber pursues this mission by collaborating with business, political and community leaders to grow the regional talent pool, create a regional approach to economic development and drive a pro-Arizona agenda.
Follow online:
@phxchamber
facebook.com/phxchamber
www.phoenixchamber.com/LinkedIn
www.phoenixchamber.com/YouTube
Learn more:
www.phoenixchamber.com
info@phoenixchamber.com
602.495.2195 заём
займ на карту быстрый займ онлайн на карту сбербанкасрочно взять займзайм на карту онлайн без процентов займ на карту без проверок срочнозайм онлайн без проверки кредитной историизайм онлайн с любой кредитной историей