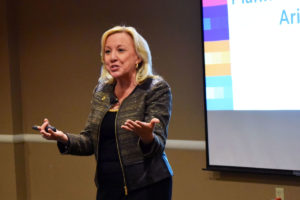 On Tuesday, March 13, Jodi Liggett, Vice President of Public Affairs for Planned Parenthood spoke to a room full of Valley professionals at the Professional Women's Alliance (PWA) luncheon.
She kicked off her remarks by telling the audience that as a Republican and as a Catholic, she never thought she would be where she is today, working and advocating on behalf of Planned Parenthood.
Liggett's story is one that shows that no career path is a linear line. In fact, it's usually quite the opposite.
Liggett went to law school shortly after having a child. She pushed through, graduated and secured a job at the Arizona State House of Representatives. A good start to a career that she hoped to parlay into a future as a successful contract lobbyist.
But, fate had a very different idea. She was assigned to staff a committee that dealt with block grant allocation. As a committee staffer, she heard public testimony from thousands of women and those women changed her outlook on how strongly public policy can impact members of the public.
"Single moms struggling to put food on the table and taking two city buses to get their kids to school every day. Moms who worked 60 hour weeks and still could not keep up with their bills. Survivors of domestic violence starting over with nothing, trying to rebuild their lives. These women profoundly affected my perspective on my career and my definition of success," Liggett said.
And with a new outlook, she forged forward carving out her role and her career. She worked closely with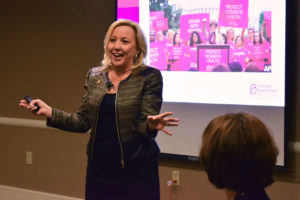 Governor Jan Hull as a Senior Policy Advisor, served as the CEO and Board Chair of the Arizona Foundation for Women, and served as Senior Policy Advisor to Phoenix Mayor Greg Stanton. Today, at Planned Parenthood, her role still focuses on the same issues that sparked her interest in public service. She oversees reproductive health and rights policy, organizing, communication, lobbying, litigation, and electoral activity.
In her time as a policy expert and professional advocate, Liggett has learned that one of the keys to dynamically influencing people's opinions and shifting perspectives is through strong stories.
"People want to hear about others stories," said Liggett. "Not data, but personal stories that they can relate to."
As a strong advocate for women, Liggett believes women have an important role to play and can effectively influence change in the community.
"I think that women have a special role to play in this new era," Liggett said. "I think women understand personal stories, and sympathy comes naturally to them"
Offering advice to women interested in becoming more involved in policy or politics, Liggett encouraged the audience at PWA to jump in with both feet.
"Arizona has very few barriers to entry for women, we have long had a large number of women holding public office at every level," said Liggett.
She continued and said that there are more ways to influence policy that doesn't require holding an elected office.
"Policy advisors and professional staff impact the lives of hundreds of thousands of people every day," said Ligget. "It is incredibly satisfying work."
Join the Greater Phoenix Chamber of Commerce at the next Professional Women's Alliance Luncheon on Tuesday, April 10, 2018.