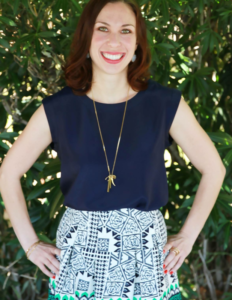 The Greater Phoenix Chamber of Commerce's (GPCC) Valley Young Professionals' Board of Directors welcomed six new members to the Board. Each new member was selected based on their past involvement in VYP and the vision that they bring to the Board. This month, get to know Rita Rabbani, Associate Account Director of Ideas Collide. Rabbani has worked in many different industries throughout the Valley including marketing, professional sports and food manufacturing, and is excited to bring her knowledge and connections to the Board. Pulling from her creative side, Rabbani is a strategic thinker and looks forward to offering fresh ideas to the Board for promotions, programming, and more.
Question: What do you hope to gain from your experience as a new Valley Young Professionals (VYP) Board member?
Answer: I am so excited to be joining the VYP board to for the opportunity to meet other driven professionals in the Valley. I enjoy attending VYP events each month because I have the opportunity to meeet people from various industries, job-types and backgrounds. Selfishly, I love this because I have learned so much from other members ranging from how a major corporation is diving into international expansion to details into careers in the financial industry and art education. I've run into several old friends and made new friends. I've had the opportunity to significantly increase my network which will only continue to help me bring more value to my position at Ideas Collide.
Question: What experiences and perspectives will you bring to the board that you hope will be valuable to the VYP group?
Answer: I've been very lucky to have worked in a few different industries in Phoenix from digital marketing to professional sports to food manufacturing, so I have several connections that I would be happy to leverage on behalf of VYP. Additionally, I will be able to benefit the Board through my creative strategic thinking. I can offer fresh ideas to the board for promotions, programming, etc. that will allow the organization to stay relevant and desirable to other young professionals in the Valley.