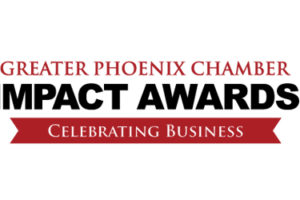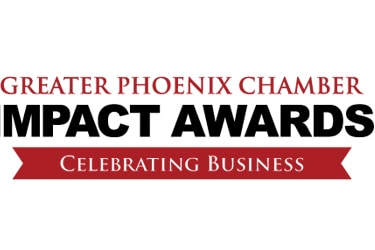 MEDIA CONTACT:
Janelle Tassart
O: 602.495.6480
C: 480.215.2149
[email protected]
FOR IMMEDIATE RELEASE:
May 24, 2018
Announced at 2018 IMPACT Awards Luncheon on May 24
PHOENIX – Phoenix Children's Hospital and Equality Health have been named the large and small/medium Businesses of the Year by the Greater Phoenix Chamber during the 31st Annual IMPACT Awards Luncheon held Thursday, May 24 at The Arizona Biltmore, A Waldorf Astoria Resort.
Large Business of the Year: Phoenix Children's Hospital
"The Chamber's Business of the Year award is a testament to the Phoenix Children's staff. They fight to find solutions and are unwilling to accept life ending diseases. They do this so that children in Arizona and all over the country have a fighting chance. We went from a pediatric unit to what we are now–an internationally ranked, specialty pediatric hospital. We've created the highest level of training for pediatric specialists. Regardless of all that, nothing gives us more pride than caring for our community's children," said Bob Meyer, CEO of Phoenix Children's Hospital.
Small/Medium Business of the Year: Equality Health
It is an honor to be selected as an exceptional innovator and as the Chamber's Business of the Year. It affirms our unwavering desire to ensure equal health care for all, but especially for vulnerable populations," said Hugh Lytle, Founder & CEO of Equality Health. "We saw the need to disrupt the one size fits all health care model. We're working to meet our patients where they are on a day-to-day basis. We train our physicians on cultural competence and provide cultural care. We are putting private investment into a chronically underfunded public health care system."
The two companies were selected out of eight local companies which are recipients of the Chamber's IMPACT Awards, honoring the accomplishments of small and large Valley businesses and the positive influences they have on the business community and economy.
"This year's IMPACT Award recipients are truly reflective of the strong leadership, expanding innovation and dedication to the community, that the Greater Phoenix business community is proud to be known for," said Greater Phoenix Chamber President and CEO Todd Sanders. "These organizations will continue to serve as role models for our community and drive the growth of the Greater Phoenix region for years to come."
Follow this link to watch a brief video highlighting each IMPACT Award recipient.
Large Business Category (More than 250 employees):
2018 Arizona Advocate – Arizona Public Service (APS)
2018 Community Champion – Salt River Project (SRP)
2018 Economic Driver – Phoenix Suns
2018 Exceptional Innovator – Phoenix Children's Hospital
Small to Medium Business Category (250 employees or fewer):
2018 Arizona Advocate – ISM Raceway
2018 Community Champion – Delta Dental of Arizona
2018 Economic Driver – Plaza Companies
2018 Exceptional Innovator – Equality Health
IMPACTful Nonprofit Award
In addition to honoring exceptional Valley businesses, the Chamber added the IMPACTful Nonprofit Award in 2016 to recognize the outstanding work of Valley nonprofits. This year's IMPACTful Nonprofit Award recipient is Daring Adventures. The IMPACTful Nonprofit Award recipient is ultimately chosen by popular vote of the community. Daring Adventures was chosen this year from four deserving finalists, all of whom exemplify hard work and dedication to our community.
Sentinel Awards
The Chamber recognizes three outstanding elected officials with the Sentinel Awards, which highlight the great things that can be accomplished when business and government work together.
Sentinel Award recipients:
Arizona State Representative T.J. Shope
City of Phoenix Vice Mayor Thelda Williams
Arizona State Senator Bob Worsley
###
About the Greater Phoenix Chamber of Commerce
Representing 2,400 businesses across the Greater Phoenix region, the Greater Phoenix Chamber of Commerce promotes regional prosperity by serving as a catalyst for economic vitality and strong communities. The Chamber pursues this mission by collaborating with business, political and community leaders to grow the regional talent pool, create a regional approach to economic development and drive a pro-Arizona agenda.   
Follow online:
@phxchamber
facebook.com/phxchamber
www.phoenixchamber.com/LinkedIn
www.phoenixchamber.com/YouTube
Learn more:
www.phoenixchamber.com
[email protected]
602.495.2195 кредит онлайн
займ на карту срочно без отказа займ с просрочкамичастный займ москвабиг мани займ 100 процентный займбыстрый займ без проверки кредитной историиvivadengi займ на карт займ на банковский счет срочно без отказавзять займ онлайн без телефонаонлайн займ за 5 мин