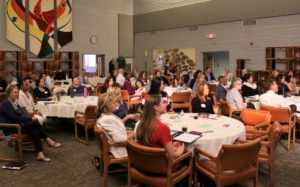 The Phoenix Health Care Sector Partnership (PHCSP) is a collaborative of health care leaders, educational institutions, and community partners dedicated to improving health outcomes for the community, strengthening the health system, and fostering expansions of health care companies that generate quality job opportunities.
In 2013, the City of Phoenix launched the partnership, which has since come under the aegis of the Greater Phoenix Chamber. The PHCSP is an important component of the Greater Phoenix Chamber's Economic Development efforts to move Phoenix forward. The Chamber hosts biannual meetings for more than 300 industry and community leaders at partner venues across the Valley to bring together business leaders and promote the PHCSP priorities.
In the first meeting of FY 2019, the Chamber hosted leaders in health care innovation in the Greater Phoenix region, highlighted the accomplishments of PHCSP and its progress, provided an update on the Greater Phoenix Chamber Foundation's Hospital Workforce Collaborative and Wellness AtoZ, and shared an update from job-seeker platform, Pipeline AZ.
Health Care innovation in Phoenix
City of Phoenix Councilwoman Debra Stark addressed attendees and addressed the city's efforts to ensure that Phoenix stays hot and leads in the health care industry.
From TGEN and the BioMedical Campus to groundbreaking high school training programs, Phoenix is working hard to support the growth of health care providers such as Banner Health, HonorHealth, Dignity Health, Phoenix Children's Hospital, and so many other world-class providers. Health care providers are growing Phoenix. These expansions include approximately $2 million in investment in the Phoenix community and 5,000 new jobs. In fact, Mayo Clinic is doubling their hospital with an additional 1.4 square feet and 2,000 new jobs.
In the coming years, Phoenix will also be home to Arizona's Biomedical Corridor. The Corridor is more than 200 acres, which houses the Mayo Clinic and will soon include a new BioMedical campus with Arizona State University.
Phoenix strives to work with industry leaders to integrate health care providers and services into the City and to ensure that Phoenix is designed to promote health to its citizens and visitors.
Partnership accomplishments and vision
Linda Hunt of Dignity Health Arizona, who has been a part of the PHCSP since its inception, highlighted the partnership's accomplishments. From increasing awareness around Arizona's health care ecosystem to advocating for the Medical Licensure Compact, the Partnership leads the way forward for innovation in health care. These accomplishments include:
Launched the Wellness AtoZ imitative, which includes more than 60 participating companies
Formed Hospital Workforce Collaborative to address specialty labor.
Modification to the state-loan repayment plan to include behavioral health and other health professionals.
Adoption of the Medical Licensure Compact.
Secured additional funding from the state budget to draw down federal match dollars for state-loan repayment.
Supported the Community Gardens legislation that allows schools to grow food in campus gardens and use that food in their school cafeterias.
According to Hunt, none of these accomplishments would have been possible without the collaborative gene.
Hospital Workforce Collaborative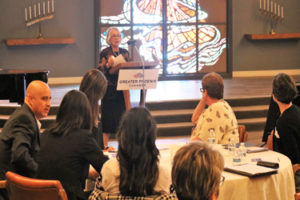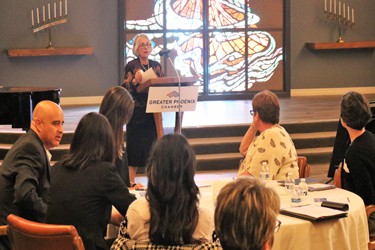 The Foundation's Hospital Workforce Collaborative focuses on addressing workforce shortages for regional hospital systems. Health care has been a driving factor for Greater Phoenix job growth in recent years, and the region has the potential to become a national health care hub. Workforce shortages in health care need to be addressed to make this goal a reality.
The Collaborative is working to help hospitals attract specialty nurses and surgical technicians across all specialties. By convening hospital leaders, the Collaborative is developing a strategy to harness collective efforts to attract and develop talent to move Phoenix's health care industry forward.
Pipeline AZ
Pipeline AZ is a community project and partnership between business leaders. Pipeline AZ is the first regional platform to address regional talent and marketplace issues. Pipeline AZ supports organic workforce growth across all industries. Pipeline AZ is a platform that allows users to identify pathways, careers, and learning opportunities to connect them with the right path and the right employer for their interest.
Wellness AtoZ
Wellness AtoZ aims at making the Greater Phoenix region known as a destination for healthy talent and a healthy community. It complements existing wellness programs, highlighting best practices and offering free tools to enhance your wellness programs.
In addition to free content for businesses to supplement or create a workplace wellness program, Wellness AtoZ offers two annual community health challenges and quarterly WorkWell forums where employers can share best practices.
In the coming months, the objective is to scale Wellness AtoZ and expand the initiative's reach into all of Arizona.
More than 75 Phoenix Health Care Sector Partnership attendees joined in breakout sessions to discuss solutions to address the shortage of entry-level health care workers and the business community's role in the opioid epidemic.
The employer-led discussion surrounding the shortage of entry-level workers in the health care industry led to many employers showing interest in leading a charge to create change. Due to the overwhelming response from the Partnership attendees, the Chamber will be hosting a follow up meeting on Thursday, December 6 from 3:30 – 5 p.m. If you are interested in being part of this discussion and create solutions to addressing the health care talent shortage, please email Nicole Pepper, Project Manager at [email protected]. микрозаймы и займы онлайн без отказа
займ на карту срочно без отказа деньги онлайн займ на кивидает займвзять займ онлайн быстрые смс займы как взять займ с плохой кредитной историейзайм онлайн на qiwiмфо первый займ без процентов займ под залог автомобилязайм qiwiзайм без предоплаты