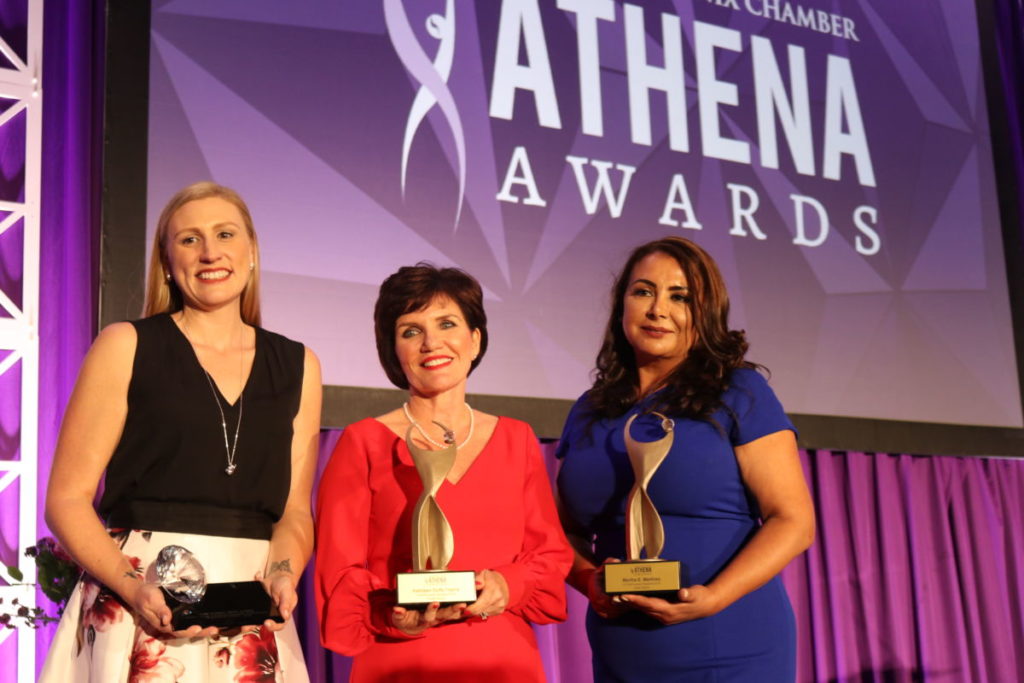 MEDIA CONTACT:
Janelle Tassart
 (O): 602.495.6480
(C): 480.215.2149
FOR IMMEDIATE RELEASE:
Oct. 24, 2018
(PHOENIX) – The Greater Phoenix Chamber announced the 2018 ATHENA Public Sector, Private Sector and Young Professional Award recipients during its 31st Annual ATHENA Awards Luncheon Oct. 24 at the JW Marriott Phoenix Desert Ridge.
Kathleen Duffy Ybarra, CEO and Founder of Duffy Group, Inc., was awarded the 2018 ATHENA Businesswoman of the Year Award in the private sector. Martha Martinez, Manager, Language & International Programs for Maricopa Integrated Health System, earned the 2018 ATHENA Businesswoman of the Year Award in the public sector. Terri Waibel, Owner, Psychotherapist and Grief Counselor of the Center for Compassion, took home the 2018 ATHENA Young Professional Award.
"We are honored to celebrate an incredible group of leaders as this year's recipients of the Greater Phoenix Chamber's ATHENA Awards," said Todd Sanders, president & CEO of the Greater Phoenix Chamber. "These women are making our community stronger through all that they do, and it is inspiring to see their dedication to building a brighter future for us all.  They represent the best that the Arizona business community has to offer, and I look forward to seeing how they will continue to make an impact in our region."
The ATHENA Awards, named after the Greek goddess of courage and wisdom, is a program of ATHENA International, a non-profit organization dedicated to creating leadership opportunities for women.
"I'm just so proud to be able to thank the people who helped me and to celebrate women and their accomplishments" said Kathleen Duffy Ybarra, 2018 ATHENA Businesswoman of the Year Award recipient in the private sector. "To be a part of a tradition like this is just really meaningful to me."
After founding her business in 1991, Duffy Ybarra turned her industry's model upside down to put power back into her clients' hands.  As a strong advocate for small business ownership, she gives back to other entrepreneurs by serving organizations such as Seed Spot, National Association of Women Business Owners, and the ASU Alumni Association, where she works with others to refine their business pitches and models.
Duffy Ybarra is passionate about leading by example for other female business owners, and prides herself on dedicating her time to organizations and people that she encounters both in and outside of business.
When asked what advice she would give women who are just beginning their career, Duffy Ybarra said, "Know yourself, be comfortable and confident with who you are so that you can portray it to others.  If women follow this, we can change the world."
"I am excited to be part of the ATHENA cohort, to work together to make the Greater Phoenix area a great place for businesses to come and grow–and for us to be able to mentor that critical talent that businesses need," Duffy said, of being selected.
"For me being an ATHENA is such an overwhelming experience," said Martha Martinez, 2018 ATHENA Businesswoman of the Year Award recipient in the public sector. "I look at the women that I'm sharing this experience with, and I think it shows that there's strength in numbers and we can continue to have a voice and make a difference."
Thirty-three years ago, Martha Martinez took the first steps toward changing her life when she moved from Mexico to Phoenix.  Those steps would lead her to a career of service, where she would have the ability to transform her community.
At Maricopa Integrated Health System, Martinez grew from a humble start in housekeeping, to creating the first formal interpreters' program in an Arizona hospital.  She developed a training system that has been utilized by more than 700 interpreters across the United States, and oversees dozens of interpreters who help doctors and patients communicate every day.
When asked what has empowered her to serve her community, and how it influences the way she leads, Martinez said, "Community service influences my leadership style because I live the needs. I can see it. I can feel it. I know that some people will go by the books. I don't. I go by my heart."
"I feel so humbled and so overwhelmed. It was such an honor to even be selected as a finalist, let alone selected as a recipient. Knowing the work I am doing for my community is being recognized gives me the courage to continue feeling proud about my heritage, and helping the Latino and underserved communities," Martinez said, upon receiving the honor.
"This is a huge recognition for the work that I care so deeply about," said Terri Waibel, the 2018 ATHENA Young Professional Award recipient. "It's inspiring to see the past recipients who have used this recognition as a platform to further the work that they're doing."
In the wake of her own story, Terri Waibel harnessed her personal grief to create a space for others to feel and honor their grief by founding the Center for Compassion.  Waibel specializes in providing therapeutic support to individuals, children, and families enduring the death of a beloved family member.
Through her efforts as a social worker, and as an Arizona State University MSW Field Supervisor, she role models for others entering her field.  Every day, Waibel illustrates how to have a mindful relationship with grief while living a life of meaning.
When asked what she sees as the key to continued success, Waibel said, "My deepest wish is that when I die, because I will, that people will remember me for a legacy of love and compassion always."
Waibel shared "I'm astonished at being honored by the Greater Phoenix Chamber, and joining the incredible group of women that make up the ATHENAs. I'm humbled and grateful for what this opportunity means for me and the community."
Duffy Ybarra, Martinez and Waibel were chosen from among 11 ATHENA finalists, who were selected from a large group of nominees. The following is a complete list of the 2018 ATHENA finalists:
Private Sector finalists:
Kathleen Duffy Ybarra, CEO/Founder, Duffy Group, Inc.
Letitia Frye, President & Founder/CEO, Letitia Frye, LLC
Jessica Pacheco, Vice President, State & Local Affairs, Arizona Public Service
Terry Roman, Partner, Snell & Wilmer
Public Sector finalists:
Melissa Holdaway, CEO, Arizona Charter Academy
Martha Martinez, Manager, Language & International Programs, Maricopa Integrated Health System
Tanya M. Muñiz, Chief Financial Officer, Valley of the Sun United Way
Melissa Trujillo, President & CEO, Be A Leader Foundation
Young Professional finalists:
Audrey Monell, President, Forrest Anderson Plumbing and AC
Kado Stewart, Director of Programs, one•n•ten
Terri Waibel, Owner, Psychotherapist, Grief Counselor, Center for Compassion
About the Greater Phoenix Chamber
Representing 2,400 businesses across the Greater Phoenix region, the Greater Phoenix Chamber of Commerce promotes regional prosperity by serving as a catalyst for economic vitality and strong communities. The Chamber pursues this mission by collaborating with business, political and community leaders to grow the regional talent pool, create a regional approach to economic development and drive a pro-Arizona agenda.
About the ATHENA Award
The ATHENA Award, an honor awarded internationally, recognizes exemplary achievement and challenges its recipients with a continued sense of responsibility, support and leadership. The ATHENA Award honors women who have consistently invested in themselves, their profession, their community, and especially other women. They have achieved the pinnacle of success within their industry, have mentored women throughout their career, and have dedicated themselves to the community through various activities and charities.
About the ATHENA Young Professional Award
ATHENA International established an award to honor emerging young leaders in our community. The ATHENA Young Professional Award officially launched at the 2007 International ATHENA Leadership Conference and Phoenix was proud to be one of the first cities to present it within their community. These are the "women to watch."
FOLLOW ONLINE:
@phxchamber
facebook.com/phxchamber
Learn more:
www.phoenixchamber.com
www.phoenixchamber.com/vyp
info@phoenixchamber.com
602.495.2195