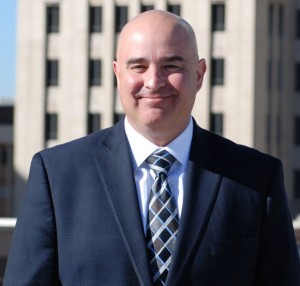 The Greater Phoenix region is growing and expanding. I'm sure that's clear to anyone driving around the city. Construction, while frustrating on your daily commute, is a positive economic indicator and one that illustrates the strong progress being made daily in the community.
In 2018, Maricopa County was the fastest growing county in the nation, and it shows in the increase in businesses and available jobs. In fact, many key Arizona industries are struggling to find the talent they need to meet the demands of their growing businesses. From construction skilled trades to cybersecurity companies and the financial services industry, businesses sectors are in need of strong talent pipelines that connect them to qualified talent or eager individuals willing to learn a new skill and jumpstart their careers.
That's one of the key reasons that the Greater Phoenix Chamber Foundation (the Foundation) focuses on workforce. Our Foundation serves as a link between industry and education, ensuring that students in the Greater Phoenix region have access to high-quality, affordable education and related job training to prepare them for the future.
Workforce Collaboratives
In the next twelve months, we will be increasing our efforts in key workforce collaboratives. With the help of businesses, we are developing unique, collaborative approaches to tackling the issues that hinder their industry growth.
Construction
In Arizona, there are more than 10,000 vacant construction trade positions. In a 2016 HomeAdvisor survey, 93% of industry respondents said the labor shortage is preventing their businesses from growing over the next year. This struggle to find qualified employees has real economic consequences for not only construction firms, but their customers and vendors as well. Talent gaps delay construction projects, meaning slower economic growth for Arizona.
The Construction Workforce Collaborative—including commercial and residential contractors and subcontractors— focuses on attracting opportunity youth, women, veterans, and other individuals to launch a career with growth potential and opportunities to earn while they learn.
Led by industry leaders, the Foundation developed a three-pronged approach to strengthening the construction workforce pipeline: career awareness, educational alignment, and earn & learn.  Through a partnership with Build Your Future, the Foundation is working to launch a local Build Your Future Arizona campaign.
Financial Services
Arizona is a financial services hub with a growing number of positions, especially financial service professionals, financial advisors, analysts, and investment professionals. As the number of jobs continues to grow, companies need alternative paths to develop the talent needed to expand their operations.
Last year, the Financial Services Collaborative launched the Financial Industry Training (FIT), a month-long training program to prepare career-seekers to pass the initial licensing exam, the Securities Industry Essentials Exam (SIE) and connect them with potential employers.
We're excited to be working toward the launch of the second FIT cohort and to be hosting regular informational open houses for job seekers with our partners at the City of Phoenix.
As we enter into a new year, we're focused on working with our corporate partners to scale the FIT program and increase awareness about a career pathway that's open to all individuals.
JDX
In 2016, the Foundation launched efforts to help Arizona businesses grow by tackling their biggest pain point. Harnessing the core principle of Talent Pipeline Management (TPM), our team worked with our Cybersecurity Workforce Collaborative to develop a standard list of skills, minimum requirements, and terminology that could be used in a universal way across the industry for similar positions.
The work our team did in 2016 is the analog equivalent of USCCF's newly-launched Job Data Exchange (JDX).
The JDX is a set of open data resources, algorithms, and reference applications for employers and HR technology partners to use in improving how employers communicate competency and credentialing requirements for in-demand jobs.
In 2019, the Foundation will complete the rollout of TPM across our Cybersecurity Workforce Collaborative and our similarly structured Hospital Workforce Collaborative, and we will work with industry leaders to collect job descriptions that support the development of standardized language for each industry as a part of the JDX. The analysis of these job descriptions, along with gathering key information from participating businesses and their HR technology vendors, will begin the process in standardizing employer needs.
As we continue our workforce development efforts, we look forward to supporting businesses by serving as a connector between industry and education, and conduit for solutions that moves Phoenix forward.
You can join us in these efforts this year, by participating in a Workforce Collaborative or by attending our inaugural Workforce Summit on March 13.