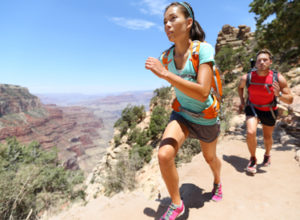 Wellness AtoZ is an initiative of the Greater Phoenix Chamber Foundation aimed at making Arizona and the Greater Phoenix region known as a destination for healthy talent and a healthy community.
By offering free solutions for all businesses, employers can use Wellness AtoZ in a way that works for them and their employees. The four Wellness AtoZ toolkits complement existing programs by offering employers another way to share local messages of health and wellness to their employees or provide a foundation for businesses to build their own unique workplace wellness initiative.
From large companies with thousands of employees to small businesses with less than 25 employees, Wellness AtoZ provides offerings to help increase wellness awareness and build healthy habits at work and at home.
Launched in 2017, Wellness AtoZ has grown to more than 75 employers, impacting more than 320,000 individuals across Arizona.
Companies are seeing success with the program, and the Wellness AtoZ team knows that your business could benefit too! You don't have to take our word for it, just hear what our Wellness AtoZ Employers have to say about the program:
"The Chamber offers innumerable benefits to Delta Dental of Arizona, but as an employee-centric organization, we've really enjoyed the benefits of Wellness AtoZ. Our HR department is very small, so getting professionally-done, timely and expansive wellness materials for distribution is wonderful." Brad Clothier, Delta Dental of Arizona
"As a small business owner focused on workplace wellness services, I am so fortunate to attend the quarterly WorkWELL forums. Hands down, Wellness AtoZ events have been the most valuable networking resource for making connections and learning more about corporate wellness challenges and progress in Arizona. I can directly attribute revenue, media mentions, and creative campaign ideas to interactions and conversations that Wellness AtoZ made possible." Susan West, M2 Wellbeing
Wellness AtoZ jump-started our wellness program. As a non-profit, we didn't have the resources to put a wellness program into place that would really benefit employees—Wellness AtoZ did that for us! Had it not been for Wellness AtoZ we wouldn't have had such great success in such a short period of time." Deb Powell, Foundation for Senior Living
At PayPal we have an inspiring mission and vision to reimagine money and democratize financial services so that managing and moving money is a right for all citizens, not just the affluent. Many of our employees join PayPal because they believe they can make a big impact in the world. Utilizing Wellness AtoZ's tools has enabled the Arizona sites to take a further look at their local wellness efforts to refine their objectives and goals around the health focus areas that are most important to employees over the next year. Jackie Terry, PayPal
Phoenix Children's Hospital's wellbeing program formally launched five years ago. We learned a lot during the first couple of years. One of our best decisions was to become an active member of Wellness AtoZ. Their robust menu of wellbeing offerings provided us with tools to increase employee engagement and implement meaningful programming. Phoenix Children's believes that our involvement with Wellness AtoZ has helped bring together other like-minded companies committed to the health and wellbeing of not only employees but our community as well. Kristina Bignoli, Phoenix Children's Hospital