MEDIA CONTACT: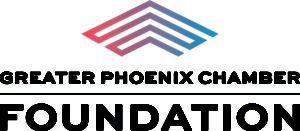 Janelle Tassart
C: 480.215.2149 | O: 602.495.6480
jtassart@phoenixchamber.com
FOR IMMEDIATE RELEASE:
March 19, 2019
PHOENIX – The Greater Phoenix Chamber Foundation announces a partnership with Maricopa Community College's Maricopa Corporate College (MCOR) as the official education provider for its Financial Industry Training (FIT). FIT partners with ARIZONA@WORK for course funding through Workforce Innovation Opportunity Act, and prepares individuals to pass the Securities Industry Essentials (SIE) Exam. The SIE exam launched in October 2018 for prospective securities industry professionals, and assesses a candidate's knowledge of basic securities industry information.
"This is an exciting new opportunity for our local workforce and this partnership is a powerful example of how business and education can collaborate to develop a pipeline of skilled workers," said Patti O'Brien, Chief Operating Officer for Maricopa Corporate College. "We are proud to partner with the Greater Phoenix Chamber Foundation to meet the growing talent needs of Arizona's financial services industry."
Arizona is a financial services hub with a growing number of positions, especially entry-level financial advisors and investment professionals. As the number of jobs continues to grow, companies are looking for alternative paths to find the talent needed to expand their operations.
On April 29, 2019, FIT will launch the first cohort of students in collaboration with Maricopa Corporate College. The program consists of four weeks of instruction where students have the option of online, hybrid, and full classroom models. The first course will be held at Rio Salado College in Tempe and subsequent courses will rotate at various locations throughout the Valley within the Maricopa County Community College District.
"The Greater Phoenix Chamber Foundation is proud to partner with the most elite community college system in the country to provide new career training opportunities to Valley residents," Todd Sanders, President and CEO, Greater Phoenix Chamber Foundation. "Utilizing this innovative training model, we are making high-potential careers available to previously underserved populations. The training provided through these cohorts will allow local employers the opportunity to access well-prepared talent to fill their hiring needs."
"We are seeing early success from our pilot program, with two individuals gaining employment and several more in the application process," says Brittany Holmes, Workforce Development Manager for the Greater Phoenix Chamber Foundation. "We were able to help one candidate transition from a career in retail to financial services, where he is thriving in his new role. We look forward to helping many more individuals achieve their career goals through FIT."
The FIT program was designed through collaboration with local employers, including Charles Schwab, Merrill Edge, Wells Fargo, and Vanguard, and incentivizes and assists candidates in passing the required licensing exams set forth by the Financial Industry Regulatory Authority (FINRA). Historically, such exams have served as a career barrier for a large sector of the population.
Training cohorts will launch bimonthly throughout the Valley. Interested individuals do not need prior experience in the financial services industry to participate.  Cohort participants will receive:
Free or low cost four-week hybrid, or in-person course preparing you to sit for the SIE exam
Training from esteemed Maricopa Corporate College instructor with experience in licensed Financial Services roles.
Access to recruiters from participating employers at Open House and Career Night events, opening the door for job opportunities
In-person study sessions with fellow cohort members
Application and resume coaching and support
Individuals interested in learning more about a career in financial services and participating in the cohort are invited to attend the FIT open house on Tuesday, March 26, 2019.
WHAT: Financial Industry Training Open House
WHEN/WHERE:
Tuesday, March 26, 2019
6 – 7:30 p.m.
Phoenix Business and Workforce Development Center
302 N. First Ave., 6th Floor
Phoenix, AZ 85003
###
About the Greater Phoenix Chamber Foundation
Launched in 2016, the Greater Phoenix Chamber Foundation carries out charitable and education objectives by conducting research, forming partnerships and hosting events focused on education, workforce development, wellness and community development.
About the Greater Phoenix Chamber
Representing 2,400 businesses across the Greater Phoenix region, the Greater Phoenix Chamber promotes regional prosperity by serving as a catalyst for economic vitality and strong communities. The Chamber pursues this mission by collaborating with business, political and community leaders to grow the regional talent pool, creating a regional approach to economic development and drive a pro-Arizona agenda. займы онлайн
микрозайм онлайн центр финанс займвзять займ по телефону займ в псковебыстрый онлайн займ на кивиone click займ займ на киви кошелёкчастный займ под залогэкспресс займ на карту онлайн